Indian Ocean: India Deploys New Sub-Killer Planes to Counter Chinese Subs
Two Poseidon 8I aircraft have recently been dispatched to the strategically-located Andaman and Nicobar archipelago.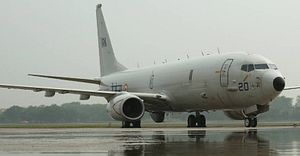 India has deployed two of its most advanced maritime patrol/anti-submarine warfare aircraft, the Poseidon 8I, at a military base in the Andaman and Nicobar Islands, located in the Indian Ocean, The Times of India reports.
The deployment comes as a response to repeated forays of Chinese conventional and nuclear submarines into the Indian Ocean, according to Indian defense officials who spoke to The Times of India on the condition of anonymity.
The two aircraft are just about to complete their two week deployment at India's farthest military outpost, 1,200 kilometers (745 miles) away from the Indian mainland.
In addition, the India has also deployed drones at the island. "Navy and IAF [Indian Air Force] are also deploying their (Israeli) Searcher-II unmanned aerial vehicles to the islands on a temporary basis," the defense official said.
The Andaman & Nicobar Command is India's first and only theater command, yet, according to the defense official, "not much progress" has been made to expand the military infrastructure in order to accommodate a division-sized military force on the 572-island chain, which extends over 720 kilometers (447 miles).
"As of now, amid turf wars among Army, Navy and IAF as well as fund crunches and environmental concerns, ANC has just over an infantry brigade (3,000 soldiers), 20 small warships and patrol vessels, and a few Mi-8 helicopters and Dornier-228 patrol aircraft," The Times of India reports.
As I reported previously (See: "India Inducts First Squadron of Anti-Submarine Warfare Plane"), the Indian Navy inducted its first squadron of Boeing P-8I Poseidon aircraft at Rajali Naval Air Station in southern India, about 70 kilometers off Chennai in November 2015.
In January 2009, India became the first international customer for the P-8I aircraft, an export variant of the P-8A Poseidon, designed and built by Boeing to replace the U.S. Navy's aging P-3 fleet, with the signing of a $2.1 billion contract for the purchase of eight planes. The first plane was delivered to India in May 2013. All eight planes are currently operational and have been inducted into the Indian Navy.
In July 2015, India announced that it will acquire four additional P8-I aircraft from the United States. "The case for acquisition of another four P-8Is is in the final stages. P-8Is can operate from Port Blair (naval air station INS Utkrosh) to keep tabs on the entire region," according to the Indian defense official.
The Indian Navy explains in a press release that the P-8I aircraft "is equipped for long range anti-submarine warfare, anti -surface warfare, intelligence, surveillance and reconnaissance in support of broad area, maritime and littoral operations."  The aircraft is armed with Harpoon Block-II missiles, MK-54 lightweight torpedoes, rockets, and Mark 82 depth charges.
The P-8I aircraft are also equipped with a Telephonics APS-143 OceanEye aft radar and a magnetic anomaly detector, and are  data-linked with Indian submarines patrolling the Indian Ocean, to which they can pass on the location of enemy vessels in the event of a conflict.