India and United States to Deepen Anti-Submarine Warfare Cooperation
New Delhi and Washington are in talks to help each other tracking subs in the Indian Ocean.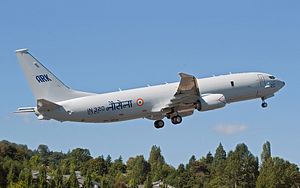 India and the United States are holding talks on strengthening cooperation on anti-submarine warfare (ASW), Reuters reports. The talks are purportedly focused on devising strategies how to best keep track of the growing number of Chinese submarines making forays into the Indian Ocean.
Neither Indian nor U.S. military officials, however, have officially revealed details of the talks. "These types of basic engagements will be the building blocks for an enduring Navy-to-Navy relationship that we hope will grow over time into a shared ASW capability," a U.S. Navy official told Reuters.
According to an Indian naval source, this year's Malabar naval exercise taking place in the northern Philippine Sea in June will allegedly include Indo-U.S. ASW drills. ASW training was also part of the 2015 iteration of the naval exercise, with India and the United States each dispatching one Boeing P-8 maritime surveillance aircraft.
U.S. Defense Secretary Ashton Carter and Indian Defense Minister Manohar Parrikar, pledged to deepen Indo-U.S. military ties during Carter's visit to India last month (See: "India and United States Agree to Deepen Military Ties, Technology Cooperation"). In a joint statement issued during the visit, Carter and Parrikar highlighted the need for navy-to-navy talks on anti-submarine warfare.
One of the most likely areas of Indo-U.S. ASW cooperation is naval aviation.
India and the United States both operate variants of the Boeing P-8A Poseidon maritime patrol/anti-submarine warfare aircraft. The Indian Navy currently operates eight P-8I Neptune, an export version of the P-8A, and has placed an order four more aircraft in July 2015.
As I reported last year (See: "India Inducts First Squadron of Anti-Submarine Warfare Plane"), the Indian Navy inducted its first squadron of Boeing P-8I Neptune aircraft at Rajali Naval Air Station in southern India, about 70 kilometers off Chennai in November 2015.
The P-8I is equipped with some of the most modern U.S. ASW technology including a Telephonics APS-143 OceanEye aft radar system and a cutting-edge magnetic anomaly detector. The aircraft is also armed with U.S. weapons systems including Harpoon Block-II missiles, MK-54 lightweight torpedoes, rockets, and Mark 82 depth charges.
To counter the forays of Chinese submarines into the Indian Ocean, India for the first time dispatched two P-8I aircraft to the Andaman and Nicobar Islands, located in the Indian Ocean 1,200 kilometers (745 miles) away from the Indian mainland for a 14-day rotation in January 2016 (See: "Indian Ocean: India Deploys New Sub-Killer Planes to Counter Chinese Subs").
The submarine arms race in the Indian Ocean appears to be heating up.
India is on the verge of commissioning its first indigenously developed ballistic missile nuclear submarine (SSBN), the INS Arihant, whereas China has purportedly deployed its first-ever submarine nuclear deterrence patrol in December 2015.
The Indo-Sino underwater arms race has the potential to contribute to instability in the Asia-Pacific region, as I explained previously.