Japan Eyes Bigger South China Sea Presence in 2016
Patrol aircraft set to make transits in key locations along the South China Sea.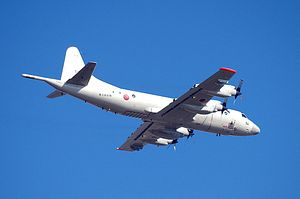 Japan has decided to boost its presence in the South China Sea in 2016 with patrol aircraft making transits in key locations along those waters, sources have told The Yomiuri Shimbun.
According to the newspaper, the defense ministry and the Japan Self-Defense Forces (JSDF) have decided that Japanese P-3C patrol aircraft returning home from anti-piracy activities off the coast of Somalia will make transit points along the way at bases in countries involved in the South China Sea disputes, including the Philippines and Vietnam.
Though the P-3C aircraft have long been involved in anti-piracy operations off the coast of Somalia, they usually refuel at bases farther away from the South China Sea, including Thailand. Now, while outward journeys would remain the same, return trips will prioritize refueling in countries like Vietnam, the Philippines, and Malaysia – all rival claimants in the ongoing South China Sea disputes with China.
Though the step may seem small, if it occurs it will no doubt be significant. Since the P-3Cs have advanced monitoring capabilities, their presence at these new locations will mean that they will cover a greater portion of the South China Sea, where Chinese behavior continues to be a concern for not just Southeast Asian claimant states, but major powers like the United States and Japan as well.
More broadly, as the newspaper noted, it would effectively constitute one way that Japan is contributing to the protection of freedom of navigation and overflight in its own way following U.S. patrols around the artificial islands built by China last year. While joint U.S.-Japan patrols in the South China Sea have yet to occur, the two countries have been increasingly coordinating their activities in the area, including by holding their first-ever bilateral naval exercise in the South China Sea in October last year (See: "US-Japan Joint Patrols in the South China Sea?").
In addition, the aircraft, the newspaper reported, could also be part of broader bilateral defense exchanges in those locations. For instance, arrangements are being made for a February stop in Cam Ranh Bay in Vietnam along with goodwill exercises. As I reported for The Diplomat last November, during Japanese Defense Minister Gen Nakatani's visit to Vietnam, the two sides had agreed that Japanese vessels would be able to make port calls in Cam Ranh Bay. However, Vietnamese officials were careful to clarify thereafter that it would be in the international harbor portion under construction rather than the naval base itself (See: "Japan Warships Could Visit Vietnam Naval Base Near South China Sea in 2016").
The other locations mentioned were Palawan in the Philippines and Labuan in Malaysia, both of which are also significant in their own right. For instance, as I have noted previously, the Philippines is constructing a base in Oyster Bay in Palawan – located around 100 miles from the Spratly Islands – which could hold large naval vessels and house operational command posts with radar systems to monitor the situation in the South China Sea (See: "Philippines Moves Toward New Naval Base in the South China Sea"). The Philippines and Japan also just carried out their first joint naval exercises last year and the verdict on the Philippine case against China on the South China Sea is expected later this year (See: "Japan, Philippines Hold First South China Sea Naval Exercises").
As for Labuan, which lies off the coast of Borneo, the United States and Malaysia had been in talks for Kuala Lumpur to host U.S. navy aircraft – P-8 Poseidon and P-3 Orion maritime surveillance planes – at the Royal Malaysian Air Force base there. Malaysia has been increasingly worried about Chinese encroachments into its waters (See: "How is Malaysia Responding to China's South China Sea Intrusion?"). As I reported in December, Washington recently reached an agreement with neighboring Singapore to deploy U.S. P-8 Poseidon aircraft there rotationally (See: "US, Singapore Agree Spy Plane Deployment Amid South China Sea Tensions").