South Korea Eyes THAAD, China Urges 'Caution'
South Korea is sending more positive signals on the U.S. missile defense system, to China's dismay.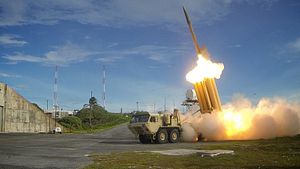 A U.S. missile defense system would be helpful for South Korean security if deployed on the peninsula, a defense official from Seoul said on Friday. The comments are the latest sign that Seoul is again considering allowing the U.S.-made Terminal High Altitude Area Defense (THAAD) system to be deployed on its soil.
Defense Ministry spokesperson Kim Min-seok said on Friday that the Korean government "will consider every measure to prepare against North Korea's missile threats." He added, "If U.S. Forces Korea deploys THAAD, it will help our national security and defense."
However, Kim also refuted media reports that South Korea and the United States had begun negotiations on the subject next week. He said that the "South Korean government has not been offered negotiations by the U.S. government," meaning no decision on the issue should be expected in the near future. Right now, he explained, both sides are discussing it internally – with South Korea in particular looking at how effective THAAD would be.
Media sources rumored that South Korea was moving forward on THAAD, pointing to numerous visits to the country by officials from Lockheed Martin, the U.S. defense company that manufactures the THAAD system, Yonhap News reports.
Those reports come a few weeks after South Korean President Park Geun-hye told reporters that South Korea would review the THAAD system based on its national security interests.
There's good reason for Seoul to be considering – or at least saying that it is considering – deploying THAAD. North Korea conducted its fourth nuclear test on January 6 of this year; satellite imagery suggests Pyongyang might be getting ready to follow that up with a ballistic missile launch. That once again drives home the increasing necessity for South Korea to have a missile defense system in place, to guard against potential North Korean missile strikes.
Just as importantly, however, China – North Korea's major ally and trading partner – has shown no sign of changing its position toward Pyongyang, despite urging from Seoul. Meanwhile, China has been adamantly against the deployment of THAAD, which it believes is just as likely to be used against Beijing as against Pyongyang. The diplomatic tussle over THAAD led to some sniping back and forth between Seoul and Beijing last year, a rare bump in what has been largely a rosy relationship.
Asked about the recent reports, Chinese Foreign Ministry spokesperson Hua Chunying reiterated China's stance on THAAD, saying that even when pursuing their own security, countries "should take into account others' security interests as well as regional peace and stability." Hua added that the "situation on the Korean Peninsula is highly sensitive," urging "relevant countries" to use "caution."
Those diplomatic signals (coupled, presumably, with more overt pressure behind the scenes) effectively stonewalled any real discussion of THAAD last year. However, with Seoul frustrated at the limits of Beijing's response to the recent nuclear test, revisiting THAAD is a way to prove to China that there are serious consequences for North Korea's actions – consequences that also impact China's own security interests.