What China Gains With Its Détente With South Korea Over THAAD
Why China doesn't necessarily "lose" by tolerating the U.S. THAAD deployment on the Peninsula.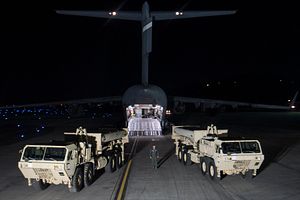 As I discussed last week, South Korea and China have managed to defuse a longstanding freeze in their bilateral relationship over Seoul's decision to allow U.S. deployment of a Terminal High Altitude Area Defense (THAAD) missile defense system on its territory. The contours of the agreement, as clarified in coordinated statements by both the South Korean and Chinese foreign ministries, are that South Korea will not accept any further THAAD launcher deployments on its territory and will indefinitely refrain from participating in networked ballistic missile defense efforts in the region led by the United States.
In the meantime, South Korea and China will restore normal diplomatic contact and endeavor to host a leaders' level meeting soon. Already, President Moon Jae-in and President Xi Jinping are expected to meet on the sidelines of the upcoming Asia-Pacific Economic Cooperation (APEC) meeting in Da Nang, Vietnam.
For South Korea, the benefits of an agreement like this are obvious: the United States retains the six THAAD launchers and one AN/TPY-2 X-band radar in Seongju county in southern South Korea while China's unofficial economic sanctions against it come to an end. The damages to South Korean firms in China and lost revenue from limited Chinese tourism to South Korea had been extensive and the Moon administration will be glad to see a return to normalcy. In one view, China effectively loses out with this deal because the X-band radar that it has long opposed on South Korean soil will remain deployed and operational while it delivers concessions.
However, this would be a short-sighted reading of the situation. At a higher level, the implications of this agreement may be far more serious. While the benefits for South Korea are apparent, the agreement also represents China securing an assurance from a U.S. ally that it will indefinitely refrain from certain types of actions within the scope of its alliance with the United States. This type of Chinese interference in limiting the future scope of a U.S. alliance is unprecedented and unsettling over the long-term. The playbook with THAAD — establishing economic leverage through unjustified economic sanctions and then lifting those sanctions after concessions on future behavior — is a coercive approach that may work elsewhere with U.S. allies and partners too.
There are still some unknown about the diplomatic churn that lead to the agreement. One particularly important question is the extent to which the Moon administration coordinated its approach to the deal with the United States. The answer to this question isn't obvious. South Korean has long been working on autonomous missile defense capabilities (the Korea Air and Missile Defense system) and networked ballistic missile defense in the region hasn't been a major priority despite increased trilateral U.S.-South Korea-Japan coordination in recent years as the threat from North Korea has intensified. Moreover, as part of the assurances the United States sought to give China over the THAAD deployment on the Peninsula, it claimed that the Seongju TPY-2 radar would never be operated outside terminal mode or send data to other U.S. sensors in the Northeast Asian region.
What we may be seeing with this deal above all is the implementation of what Moon described in a recent interview as "balanced diplomacy" for South Korea between the United States and China. The question going forward will be how Moon can safely pursue rapprochement with China without stressing the South Korean alliance with the United States at a time when North Korea's acquisition of an intercontinental-range ballistic missile has introduced a separate set of unparalleled threats to the alliance.