What's on François Hollande's Agenda in India?
In India, the French president will look to push on with defense, economic, and security cooperation.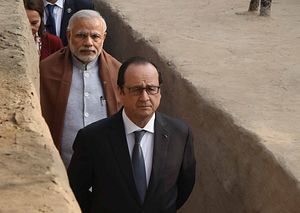 On Sunday, French President François Hollande began a three-day state visit to India. Hollande's visit will address a broad bilateral agenda, covering collaboration on defense, counter-terrorism, clean energy, and economic ties. Notably, Hollande will be the guest of honor at India's Republic Day celebrations on January 26. India hosts an annual military parade in New Delhi for Republic Day and has in recent years featured foreign heads of state and government to emphasize growing strategic ties. Hollande began his visit on Sunday in Chandigarh, where he and Modi addressed the Indo-French Business Summit.
Hollande's agenda in India is primarily borne of three developments in 2015. First, Hollande's time in India is expected to give some momentum to India's still-pending purchase of 36 French-made Dassault Rafale multi-role fighters. Last year, during Modi's visit to France in April 2015, the government-to-government agreement for India to purchase 36 Rafale fighters in fly-away condition was a headline bilateral agreement. It marked an end to India's ill-fated tender for a medium multi-role combat aircraft (MMRCA). In the months since, Dassault and the Indian government have been caught up on the issue of the offset clause–New Delhi wants to hold foreign arms suppliers to invest a portion of their revenue from deals with India in the country's defense industry.
Speaking to reporters in Chandigarh, Hollande appeared optimistic about the prospects of the negotiations with Dassault wrapping up soon. "We are going to take another step on the road which we hope will lead us to India's acquisition of the 36 Rafale jets," Hollande told reporters. "India needs them and France has shown that it has the world's best aircraft." Hollande and Modi will address the inter-governmental agreement finalizing the Rafale deal on Monday.
The second event influencing the bilateral agenda during Hollande's time in India is the devastating terror attack that took place in Paris on November 13, 2015, when Islamic State terrorists attacked several targets in the city. Speaking in Chandigarh on Sunday, Modi noted that "The day Paris was hit by terror, I decided that our Republic Day parade guest must be France as our people are united against the enemies of humanity." Modi drew comparisons between last year's attacks in Paris and India's own experience in 2008, when Lashkar-e-Taiba terrorists struck Mumbai, paralyzing the city for days and killing more than 180 people.
Hollande's participation in India's Republic Day celebrations will be a notable component of his ongoing visit. In recent years, India sent a symbolic message with its invitations for foreign leaders to attend the Republic Day parade as the guest of honor. In 2015, U.S. President Barack Obama joined Modi, shortly after the two had held their first bilateral summit in the United States. In 2014, Japanese Prime Minister Shinzo Abe joined India's then-outgoing prime minister, Manmohan Singh, underlining the growing strategic convergence between New Delhi and Tokyo. Hollande's attendance this year will in turn serve to underscore India's growing strategic ties with France.
Finally, the third event from last year that bears influence on the French president's agenda in India is the recently concluded 21st Conference of Parties (COP21) climate summit, which was hosted in Paris. Hollande and Modi will inaugurate the India-based headquarters of the Internatioanl Solar Alliance, a 121-country institution that was launched by Modi in Paris in November. The institution will endeavor to make solar energy available widely and cheaply. "We are going to translate our shared commitment to implement what was agreed in Paris into action by launching the solar alliance here," Hollande said in Chandigarh.
With an agenda encompassing everything from expanding French investment in India to counter-terrorism to solar energy, Hollande and Modi will have much to cover in the next two days.