Will Thailand Buy Russian T-90 Tanks?
Delays in the delivery of Ukrainian-made Oplot tanks made the Thai military look for alternatives.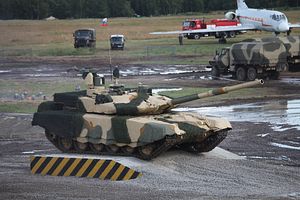 Thailand is considering buying an unknown number of Russian-made T-90S or MS main battle tanks (MBT). According to the website Defence Blog, a Thai delegation visited the Russian city of Nizhny Tagil, the site of the largest  main battle tank manufacturer in the world.
The Royal Thai Army delegation expressed interest in both the T-90(M)S and the T-14 Armata MBT – dubbed "Russia's deadliest tank" (See: "It's Official: Russia's Deadliest Tank Will Be Ready for Battle in 2020"). However, the export version of the T-14 MBT is still in the development stage and would not be ready in time to replace Thailand's aging fleet of M48A5 'Patton' tanks.
In 2011, Thailand placed a $240 million order for the purchase of 49 Ukrainian-made T-84 'Oplot-M' MBTs plus a number of support vehicles with Ukrspetsexport, a Ukrainian state-owned defense contractor.  Yet, by the end of 2015, only ten tanks had been delivered to the Royal Thai Army, causing concern over future delays among high-ranking officers in the Royal Thai Army.
Five additional tanks are slated for delivery in early 2016, according Ukrspetsexport, although sources say that Bangkok might opt out of the contract due to the delays altogether. (Thailand was originally supposed to receive 20 T-84 tanks in 2015.)
One indication for doing so is the creation of a new special Thai committee to evaluate alternatives to the T-84 MBT. Based on local media reports, the committee has narrowed it down to two models – the Russian-made T-90 (or T-90MS) or the Chinese-made VT-4/MBT-3,000.
Both Russian and Chinese models are based on the Soviet-era T-72 tank design and armed with a 125-mm smoothbore gun as their main weapon system. The T-84 Oplot is a derivative of the Soviet T-80 and also sports a 125-mm smoothbore cannon.
In June 2014, China launched an aggressive marketing drive to convince potential customers that the VT-4 is superior to both the T-90 (and T-90MS), as well as the T-14 Armata (See: "Can This Chinese Tank Beat Russia's T-14 Armata?"). However, despite claims to the contrary it appears that both tank programs (T-90MS and VT-4) have not entered the mass-production phase yet.
From 1992 to 2013, Russia sold 1,297 tanks, whereas China exported a total of 461 tanks during the same period. China has traditionally relied heavily in the development of its tank force on Russian license-built technology and know-how.
Overall, Thailand plans to purchase around 200 new MBTs in the coming years for its armored cavalry battalions. Given Russian and Chinese competition, Ukraine announced in December that it plans to  step up production and manufacture 120 new T-84 tanks per year beginning in 2016.