Another Purge in North Korea?
South Korean media claims Kim Jong-un has executed the army's chief of the General Staff.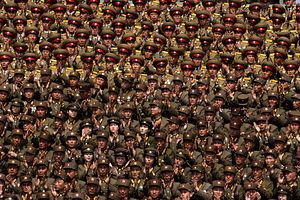 North Korean leader Kim Jong-un has bolstered his reputation for bloody purges by apparently executing the army's chief of the General Staff, according to South Korean media.
Yonhap News said that Ri Yong-gil, a top military official, was executed last week for corruption and seeking personal gain.
If true, the execution would add to a considerable list of violent purges, both confirmed and unconfirmed, blamed on the secretive regime.
In 2013, North Korean propaganda famously announced the execution of Kim's uncle Jang Song-thaek, a high-level official known for close relations with China, for "anti-party, counter-revolutionary factional acts."
Last year, the National Intelligence Service, South Korea's equivalent of the CIA, claimed that Defense Minister Hyon Yong-chol was killed with anti-aircraft fire for insubordination. It later revised its assessment to say he was removed but not necessarily executed. Hyon has not appeared in North Korean state media since.
As with similar claims in the past, there is reason to be skeptical about the latest report of politics by the gun.
Following the typical pattern for news about the opaque dealings of the leadership, Yonhap cited only "sources familiar with North Korean affairs," making it difficult to asses the credibility of the claims. The NIS, which itself has put out incorrect information on the regime, reportedly declined to comment.
Supposedly executed officials have reappeared before. As reported here in November, the nation's spy agency announced the execution of Han Kwang-sang, the finance department head of the Workers' Party of Korea, last year only for him to turn up as a member of a high-profile funeral committee.
"General Ri Yong-gil was shown on Democratic People's Republic of Korea state TV on Tuesday night in a documentary about Kim Jong-un''s activities during 2015," Michael Madden, author of the website North Korea Leadership Watch, told The Diplomat. "In fact he was in one of the first shots at the beginning. If he were dead it is highly unlikely his image would be aired all over the country — it would've been cropped out of the footage they used."
Madden said he was certain, however, that Ri had been removed based on his absence from media for more than a month and the prominence of another military official, Ri Myong-su, where he might have been.
"However as we saw twice in 2014 and just this past fall with Choe Ryong-hae (formerly a senior secretary of the WPK), senior officials can be under investigation and temporarily disappear for re-education," he said. "Two of the recent predecessors as… chief of the General Staff — Kim Kyok-sik in 2009 and Hyon Yong-chol in 2013 — were later assigned as corps commanders."
Meanwhile, the Daily NK, a news site with sources inside North Korea, said Friday that Ri Yong-gil had been arrested, but there was no evidence of his execution.