North Korea Announces Ruling Party Plenary Meeting for Late December 2019
The plenary meeting may coincide with a major policy decision by Kim Jong Un on diplomacy with the United States.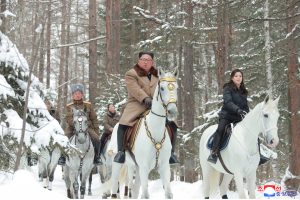 The Central Committee of the Workers' Party of Korea, North Korea's national ruling party, is set to convene a plenary session later this month, according to an announcement published in state media on Wednesday. No date was given, but the plenary is expected to occur in the second half of December.
"The Presidium of the Political Bureau of the Central Committee of the Workers' Party of Korea decided to convene the 5th Plenary Meeting of the 7th Central Committee of the WPK in the latter part of December in order to discuss and decide on crucial issues in line with the needs of the development of the Korean revolution and the changed situation at home and abroad," a statement published on Wednesday morning in North Korea's party newspaper Rodong Sinmun said.
These sorts of plenary sessions have taken on a certain importance under the leadership tenure of Kim Jong Un, the current North Korean leader. In 2013, for instance, Kim used such a plenary to annouce his byungjin line of simultaneously pursuing economic development and a nuclear deterrent. In April 2018, at the 3rd Plenary Meeting of the 7th Central Committee, Kim announced his decision to impose a moratorium on intercontinental-range ballistic missile tests and nuclear tests.
Earlier this year, in April 2019, Kim, at another plenary, the 4th of the 7th Central Committee, called on the United States to take a "bold decision" on diplomacy with Pyongyang to facilitate another summit between himself and U.S. President Donald J. Trump. Kim also used that plenary to impose a deadline of the end of the year. Each plenary session also addressed other affairs, including North Korean domestic issues. At the April 2018 plenary, Kim declared a "new strategic line" succeeding his byungjin line, calling on the Party to direct all efforts toward economic development.
Wednesday's announcement of an upcoming plenary coincided with a separate spate of articles covering another visit by Kim to Mount Paektu, a highly politically symbolic area, associated with the country's founding myths. Kim once again mounted a horse, surrounded by top officials and his wife, Ri Sol Ju. As I discussed earlier in these pages, Kim's horseback demonstration, while a source of intrigue worldwide, suggests that the North Korean leader is gearing up to make a major policy announcement—one that may come at the upcoming plenary.
Despite Kim's deadline for diplomacy with the United States having been set for the end of the year, a number of indicators, including several official North Korean statements at varying degrees of authoritativeness in recent weeks, suggest that Pyongyang's mind on charting a new course is made up. Whatever is set to happen at the upcoming plenary meeting should draw our attention.