Cambodia's Hun Sen Wants a South China Sea Apology
Premier hits out at critics who blame ASEAN's unprecedented failure to issue a joint communique in 2012 on Cambodia.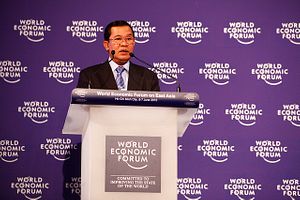 Cambodian Prime Minister Hun Sen is seeking apology from those who criticized him in 2012 when the Association of Southeast Asian Nations (ASEAN) failed to issue a joint communique for the first time in the organization's history during Cambodia's chairmanship.
In 2012, some analysts accused Cambodia, then the ASEAN chair, of blocking efforts to include strong language on maritime disputes in the South China Sea in a regular joint statement so as not to antagonize China, Phnom Penh's largest trading partner.
Hun Sen discussed the issue in an impromptu speech during a university graduation ceremony on February 5. He claimed that during his meeting with United States Secretary of State John Kerry, who visited Cambodia last month, he expressed his exasperation against the unjust accusations hurled against him and Cambodia regarding the failure of ASEAN to preserve its unity in the face of the divisive South China Sea disputes.
"Maybe it is time to return justice to me. I told John Kerry I was disappointed when they [critics] said that Cambodia's closeness to China was the obstacle to realizing the Code of Conduct in South China Sea," Hun Sen said.
He added that even when Cambodia was no longer the chair of ASEAN, other countries has also failed to make progress on the issue, including through finalizing a binding code of conduct that has long proven elusive.
"Before Cambodia took its turn, Vietnam and Indonesia were rotating chairs of ASEAN, why couldn't they realize it? After Cambodia's turn, Brunei, Myanmar, and Malaysia – did they do it? What could they say about it?"
He described the singling out of Cambodia as an issue of injustice. "Is now not the time that those who attacked Cambodia or me personally apologize to me and repay my justice?" he asked rhetorically.
But during his talk, Hun Sen also hinted his disapproval of a regional agreement to settle the issue.
"ASEAN will not have rights to divide land among them. Vietnam and China would have to sit down and work together. The Philippines and China, or the Philippines and Vietnam, will have to sit down and work out their differences," he said.
He pointed to how Cambodia and Thailand were able to resolve the dispute over the Preah Vihear temple without involving other ASEAN members.
Finally, Hun Sen cited his long experience handling foreign policy issues. He also asserted that Cambodia is not beholden to either China or the United States
"I was Foreign Minister when I was 27, when some of these analysts were just kids. I wish to reaffirm that the Cambodian foreign policy is independent and sovereign. Cambodia need not seek any country's input," he said.
If he is serious about the demand for an apology, perhaps Hun Sen can pursue the matter during the U.S.-ASEAN Summit in Sunnylands next week. But he should also take note that during Malaysia's turn to chair ASEAN last year, the group was able to successfully issue a communique which tackled China's land reclamation activities in the South China Sea.