Diplomats Scramble to React to North Korean Satellite Launch
The United States and China remain divided on how to respond to North Korean provocations.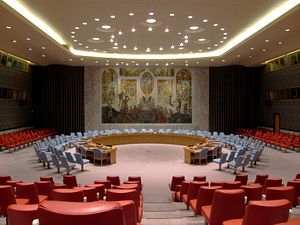 Early Sunday morning, North Korea successfully launched its Kwangmyongsong-4 "earth observing satellite from the Sohae satellite launch center, using an Unha launch vehicle. The launch came 31 days after North Korea's fourth nuclear test, which took place on January 6 and it claimed involved a hydrogen bomb. Though Pyongyang describes its long-range Unha tests as ostensibly for the purpose of delivering earth observation satellites into orbit, a warhead modification could enable these missiles to serve as long-range delivery vehicles for a nuclear device. The Diplomat's Shannon Tiezzi has more details on the circumstances surrounding the launch.
Unsurprisingly, the United Nations Security Council convened on Sunday to discuss a response to North Korea's test, which violates multiple UN Security Council resolutions. South Korean President Park Geun-hye called on the Security Council to "quickly come up with strong sanctions" after the launch. U.S. National Security Adviser Susan Rice called on "the international community to stand together and demonstrate to North Korea that its reckless actions must have serious consequences." Despite the calls from the United States and South Korea, and widespread condemnation from other regional states, including Japan and Russia, the Security Council's ability to effectively stage a strong and coordinated response to the test is under question.
The Security Council's response will ultimately come down to the possibility of a common understanding between the United States and China on the appropriate response to the missile launch. Following North Korea's nuclear test in early January, neither side was able to agree on the right way forward. U.S. Secretary of State John Kerry traveled to China recently and met with his counterpart Wang Yi to discuss the issue, but even that meeting proved unsuccessful in finding common ground. For now, the Council has said that it will adopt a new sanctions resolution in response to the rocket launch.
Beyond the Security Council, the United States, Japan, and South Korea are also coordinating their diplomatic response to the launch. Kerry spoke with his South Korean and Japanese counterparts, Yun Byung-se and Fumio Kishida. According to a readout of their conversation, Kerry "emphasized the importance of a united international response to North Korea's provocations, including through a strong UN Security Council Resolution."
As the Security Council works toward a resolution in the wake of a satellite launch, it remains unlikely that the United States and China will be able to find any common ground on pressuring North Korea. China continues to encourage restraint after North Korean provocations, urging a return to the long-defunct Six-Party Talks. Absent common ground with China at the Security Council, it's perhaps unsurprising that the United States and South Korea announced formal talks for the deployment of a Terminal High Altitude Area Defense (THAAD) system in South Korea.