First Direct Train from China Arrives in Iran
The rail route is faster than the sea route by a month, but is it cheaper?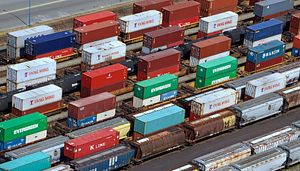 On Monday, the first cargo train from China to Iran completed its 6,462 -mile journey from Zhejiang province just south of Shanghai on China's eastern coast to Tehran. According to the head of the Iranian Railways company, Mohsen Pourseyed Aqayi, the trip took just 14 days, a full 30 days shorter than the maritime voyage from Shanghai's port to the Iranian port at Bander Abbas.
Hailed as a revival of the Silk Road, the route has great potential for both China and Iran to increase their mutual trade. China had already laid the groundwork anticipating Iran's opening (Shannon Tiezzi wrote about it in April 2015) and a week after the lifting of sanctions in January Chinese President Xi Jinping paid Tehran a visit, the first Chinese president in 14 years to do so. During that visit, Tehran and Beijing agreed to expand bilateral trade by $600 million over the next decade. China is already Iran's largest trade partner, a history built on oil. While sanctions cut Europe and the United States off from buying Iranian oil, waivers from the U.S. State Department allowed China (as well as India and South Korea) to continue its purchases. Bloomberg notes that trade between China and Iran stood at $52 billion in 2014, "before the plunge in oil prices."
China sees the route as a piece of the larger One Belt, One Road initiative. Iran, for its part, is intent on becoming a regional rail hub, seeing Chinese trains continue on to Europe via its territory. Tehran also has the potential to link up with the trans-Caspian transit route being touted by Kazakhstan, Azerbaijan, Georgia and Ukraine as another way to Europe. With the shortened time–a month and a half from Shanghai to Bander Abbas by sea and half a month by rail–it certainly is logistically possible, but what hasn't been reported is whether it is profitable.
The train's 32 containers, according to an industry journal, Railways Gazette, contained "small commodities" and left Yiwu, China on January 28. The journey, which crossed through Kazakhstan and Turkmenistan before arriving in Iran, included two breaks of gauge. A break-of-gauge (something I discussed more fully here in the context of Central Asia's railways) can be costly. Central Asia uses a different track gauge (inherited from the Soviet Union) than China and Iran which both use standard gauge. Whether the saved time–a full month–is worth the cost difference between shipping by sea or by rail is unclear.
According to Xinhua, the Chinese Ambassador to Iran, Pang Sen, said the rail route between Yiwu and Tehran was an efficient method of transporting cargo trade. The ceremony welcoming the train's arrival in Rehran was attended by the Chinese and Turkmen ambassadors to Iran.