Iran's President Visits China, Hoping to Revitalize Ties
During his three-day visit, Iran's President Ebrahim Raisi made clear that Iran is not satisfied with progress on a 2021 partnership agreement.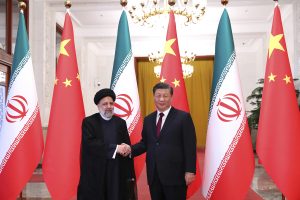 Iran's President Ebrahim Raisi arrived in Beijing on Tuesday for a three-day visit – his first to China since taking office in August 2021. Raisi's meetings in China sought to follow-up on a high-profile cooperation agreement signed in March 2021, under Iran's previous administration. 
During his visit, Chinese President Xi Jinping and Raisi attended the signing of 20 cooperation agreements including trade and tourism, the Chinese government announced. 
Xi also offered his rhetorical support to Iran, which faces heavy sanctions and pressure from the United States over its nuclear program. 
"China supports Iran in safeguarding national sovereignty" and "resisting unilateralism and bullying," Xi said in a statement carried by China's Foreign Ministry. China frequently decries U.S. "unilateralism" and "hegemony," and Iran is a willing partner in those efforts.
However, a Chinese Foreign Ministry spokesperson denied that Beijing's outreach to Iran was meant to counter the United States' role in the Middle East. "China and Iran enjoy friendly relations," Wang Wenbin said. 
"The development of friendly cooperation between our two countries is conducive to the two peoples' wellbeing as well as peace and stability in the Middle East and not targeted at any third party. 
Meanwhile, Iran's Foreign Ministry statement on Raisi's visit quoted the president as saying, "Despite the opposition of the enemies of the Islamic Republic of Iran and China to the consolidation and development of the relations between the two countries, these relations have taken great steps with the favorable management of the two sides."
Iran has struggled for years under trade and financial sanctions imposed by Washington and other Western governments over what they say is Tehran's efforts to develop nuclear weapons, an accusation the Iranian government denies. The United States government cut off Iran's access to the network that connects global banks in 2018.
Xi said Beijing "opposes external forces interfering in Iran's internal affairs and undermining Iran's security and stability," according to the Foreign Ministry statement. It said Xi promised to "work together on issues involving each other's core interests," but gave no details.
Xi also said China would "constructively participate" in talks toward the restoration of the nuclear deal reached in 2015. The United States withdrew from the deal under the Trump administration, and negotiations toward restarting the agreement have stalled. 
Both Xi and Raisi made repeated mentions of the 25-year cooperation agreement their countries signed in 2021. While the deal attracted a flurry of media attention – much of it focusing on a spurious claim that China had pledged to invest $400 billion in Iran – there has been little concrete follow-up in the nearly two years since. As William Figueroa, an expert on China-Iran relations, noted on Twitter, China has invested a paltry $162 million in Iran – "less than Afghanistan and Turkey."
Iran's impatience with the development of ties was clear from its Foreign Ministry readout on the visit. While the usual language about friendship was there, Raisi also sounded an atypically harsh note: "The development of relations between Iran and China has been moving forward, but what has been done is far from what should be done, and to compensate this backwardness, we should take greater steps." 
He emphasized the need to expand economic cooperation, an area where Iran desperately needs more Chinese engagement, but Beijing is less enthusiastic. Raisi specifically mentioned "the development of cooperation… in the fields of agriculture, automobile manufacturing, mining, and tourism, as well as making the joint economic commissions more active."
China's Foreign Ministry quoted Xi as saying that China was willing to expand cooperation with Iran on "trade, agriculture, industry, infrastructure and other fields," while increasing imports of "high-quality" agricultural goods from Iran. Xi also said "China is willing to continue to cooperate with Iran in the joint construction of the Belt and Road," but there were no details on specific projects, which suggests such cooperation remains mostly theoretical. 
As Figueroa noted in a previous piece for The Diplomat, there are clear limits to China's outreach to Iran, especially in the economic sphere. "While China is buying record amounts of Iranian oil, it is not investing in production or much else," he wrote. 
And even China's purchases of oil from Iran have fallen sharply over the past year, with Beijing able to purchase crude at a steep discount from Russia. 
Beijing might disagree in principle with the heavy U.S. sanctions on Iran, but Chinese companies remain reluctant to outright defy them and risk getting cut off from the U.S. financial system. 
Facing U.S. sanctions, Iran has few options other than China. Beijing, on the other hand, has no shortage of friendly partners – even just in Iran's immediate neighborhood. "Bahrain, Saudi Arabia, Kuwait, Oman, Turkey, and the Gulf Cooperation Council… already have substantial relations with China," Figueroa pointed out. China's ties with many of those countries "exceed the level of Sino-Iranian cooperation, and some of them – particularly Saudi Arabia – are hostile to Iran."
Xi paid a high-profile visit to Saudi Arabia in December 2022. The trip sparked a minor crisis in China-Iran relations, as Tehran took offense to a joint China-GCC statement linking Iran to "destabilizing regional activities" and "support for terrorist organizations." China's ambassador in Tehran was summoned by Iran's Foreign Ministry to hear the complaint. 
By contrast, Xi last visited Iran in 2016, notably in the brief interlude when the Iran nuclear deal was in effect and hopes were high for the easing of sanctions. Back then, he made a point to pair visits to Saudi Arabia and Iran on the same trip. Against that backdrop, his one-off visit to Riyadh last December is telling. 
While in Saudi Arabia, Xi also attended to first China-Arab states summit, which included nearly all of China's partners in the Middle East and North Africa – except for Iran. From Tehran's perspective, then, rather taking advancing ties the latest visit might be an attempt to make up for lost time.
The Associated Press contributed reporting to this article.