Tajikistan Reaches Beyond Its Borders to Silence Opposition
A pair of human rights organizations say Tajik authorities reach far beyond their borders to shut down opposition voices.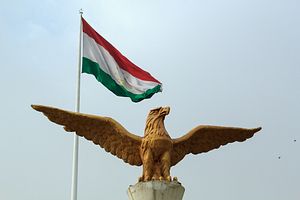 The government of Tajikistan is "arresting, imprisoning, and torturing members of the country's peaceful political opposition," a pair of human rights organizations said today. Human Rights Watch and the Norwegian Helsinki Committee also said that the crackdown is not limited to Tajikistan's territory but has continued to spill over its borders into countries to which Tajiks have fled, most prominently Russia, Belarus, Moldova, and Turkey. The Tajik government, in addition to chasing opposition members with extradition requests, has also made a habit of harassing family members as a means to pressure their relatives into returning to the country.
Perhaps the best known example of this campaign is the case of Umarali Kuvvatov, the leader of the opposition party Group 24 who was assassinated in Istanbul last March. Kuvvatov founded Group 24 in 2011 and boldly criticized the government of Emomali Rahmon, who has led Tajikistan since 1992. Kuvvatov left the country in 2012, taking up exile first in Russia then Dubai, where he was arrested on Dushanbe's request. Ten months later he was released, but reportedly told Human Rights Watch that the Tajik security services had been trying to kidnap him. He fled next to Kazakhstan and Kyrgyzstan before heading to Turkey, where he was briefly detained in January 2015. Turkish authorities released him in February — seemingly ignoring an extradition request from Dushanbe. In early March Kuvvatov and his family were invited to dinner at the home of another Tajik, Sulaimon Kayumov. Qumrinisso, Kuvvatov's wife, says that during the dinner they began to feel sick. Per Human Rights Watch's report, "Suspecting they had been poisoned, the family quickly got up to leave. When they reached the street, an unknown assailant shot Kuvvatov in the back of the head, killing him instantly."
But Kuvvatov is just a single chapter of the Tajik regime's campaign. Others detailed in the release include Sobir Valiev, a Group 24 deputy detained by Moldovan police in August 2015. Although he has been released, Tajikistan's extradition request is still pending. Meanwhile, his family living in Kyrgyzstan (where, according to the Norwegian Helsinki Commission, Valiev became a naturalized citizen in 2008), has been interrogated by Kyrgyz authorities, who allegedly told them they would have "serious problems" if Valiev does not return to the region and "surrender."
Several Group 24 members have been arrested in other countries at the request of Tajikistan, pressured into "voluntarily" returning to face charges, or have disappeared completely. Shabnam Khudoydodova was arrested in Belarus last summer while trying to cross into Poland to seek asylum. She'd been living in St. Petersburg and calling for democratic reforms online when she got word Dushanbe might try to forcibly return her to face extremism charges. Ehson Odinaev, a 24-year-old Group 24 member, disappeared from Russia in May 2015; his brother and mother have subsequently fled to Moldova. Umedjon Salikhov, who denies being a Group 24 member, voluntarily returned to Tajikistan after authorities threatened to charge his family. He was sentenced to 17 and a half years in prison in March 2015 on charges he distributed "extremist materials" on social media. Salikhov's lawyer, Buzurgmehr Yorov, was detained months later after saying in an interview that another of his clients (one of the many IRPT members on trial currently) had been tortured by Tajik police.
The stories go on and on. Regular readers of Crossroads Asia will be familiar already with the rapid decline of the IRPT, which for a number of years stood as the most prominent (and legal until last September) opposition party. Members of other groups, like the Russia-based Youth for the Revival of Tajikistan (YRT), have also been subject to intense pressure by Tajik authorities. Maksud Ibragimova, a YRT member and Russian citizen who had lived in Moscow for a decade, was detained by Russian authorities in October 2014 then released; a month later he was stabbed six times in the street. He was then kidnapped in early 2015, put on a plane to Dushanbe and arrested when the plane landed. In July he was sentenced to 17 years in jail on extremism charges.
Steve Swerdlow, Central Asia researcher at Human Rights Watch, says "Tajikistan is in the midst of the worst political and religious crackdown since the end of the country's civil war, with hundreds of people landing behind bars for no other reason than their peaceful political work."
He goes on to criticize the West's response: "Tajikistan's human rights crisis is expanding by the day, but the response of Washington, Brussels, and other international partners has fallen seriously short."
Human rights issues have remained a point of contention between the West and Central Asia. Despite a quarter century of democratization initiatives, the region is as authoritarian as ever, with the exception of Kyrgyzstan (though there are separate concerns about backsliding there). More recent strategies out of Washington have prioritized keeping discussions of human rights issues behind closed doors and ranked below security concerns.
This has seen a few individual  instances of success, such as the release last November of the region's longest-serving political prisoner in Uzbekistan. Murod Juraev spent 21 years in Uzbek prison camps before his release. Despite cases like Juraev's, the systems that permit, and at times prioritize, detaining political opposition and activists remain firmly in place. Uzbekistan's Islam Karimov similarly pursues his opponents overseas. Meanwhile the United States and the EU often decline available mechanism to increase pressure on Central Asian regimes and to the contrary continue providing military and security assistance.
Marius Fossum, the Norwegian Helsinki Committee regional representative in Central Asia, said in the group's release today, "Now is when Tajikistan's international partners, including the U.S. and EU, should send President Emomali Rahmon a clear message: repression will no longer be cost-free."
As Joshua Kucera reported yesterday for Eurasianet, a Pentagon program plans to grant Tajikistan $50 million in military aid aimed at countering regional terrorist groups. But other parts of the government are more circumspect. In testimony last week before the U.S. Congress on his agency's annual worldwide threat assessment, U.S. Director of National Intelligence James Clapper, per his statement on the record, said:
Central Asian states remain concerned about the rising threat of extremism to the stability of their countries, particularly in light of a reduced Coalition presence in Afghanistan. Russia shares these concerns and is likely to use the threat of instability in Afghanistan to increase its involvement in Central Asian security affairs. However, economic challenges stemming from official mismanagement, low commodity prices, declining trade and remittances associated with Russia's weakening economy, and ethnic tensions and political repression, are likely to present the most significant instability threat to these countries.