Want to Get Arrested in Tajikistan? Be a Lawyer
Who will defend the defenders when all the lawyers are detained?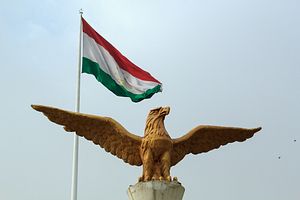 A Tajik lawyer says the government has been putting pressure on his family because of his client, jailed politician Zayd Saidov. Ishoq Tabarov told RFE/RL that the recent charging of his son, Daler, with failure to report a crime and the sentencing of his other son, Firuz, to more than 13 years in jail for anti-state propaganda, were politically motivated moves.
Saidov, a prominent businessman, formed a political party ahead of the 2012 presidential elections. He was arrested and charged with fraud, polygamy, and rape. After conviction, he was sentenced to 26 years in jail. In August 2015, Saidov was given three more years on additional charges of  forgery, abuse of office, embezzlement, and tax evasion.
Tabarov is far from the first lawyer to come under pressure from the Tajik authorities, even just in relation to the Saidov case.
In March 2014, Fakhriddin Zokirov, one of Saidov's lawyers, was arrested on charges that he forged documents in order to receive a million-dollar loan from a Tajik bank. His lawyer was Buzurgmehr Yorov (that becomes important further down).
The International Commission of Jurists expressed their dismay at Zokirov's arrest and in a release noted that Saidov's other two lawyers–Shuhrat Qudratov and Ishoq Tabarov– "announced at a press conference that they had recently faced various threats and intimidation in connection with the [Saidov] case."
In April 2014, Qudratov told IWPR that being a lawyer had become a "dangerous occupation." Because lawyers are the only people who see what happens behind closed trial doors, Qudratov said "In a situation like that, the lawyer becomes the only source of information for the public outside."
In early July 2014, a court in Dushanbe decided that Zokirov's detention would be extended for two more months. Later that month Qudratov, was arrested on charges that he had taken money from one of his clients with the intent to bribe a judge into acquitting that client of fraud.
Zokirov was amnestied in November 2014 and released (at which point he ceased representing Saidov), but Qudratov's trial moved forward and in January 2015 he was sentenced to nine years in jail (later reduced to just over three years). In August 2015, Zokirov was arrested again on vague fraud charges, per IWPR he was "only released in October after paying a fine of some 2,000 dollars."
Tabarov's present troubles–the charging of one son and conviction of the other–fall into an obvious pattern. This isn't just a "witch hunt" (to borrow Bruce Pannier's phrase) for lawyers tied to the Saidov case, either, but rather indicative of an overall persecution of lawyers for simply doing their jobs.
Buzurgmehr Yorov, noted above as having represented Zokirov, was himself arrested in September 2015. Human Rights Watch noted the timing: "At the time of his arrest, Yorov had just begun to represent the 13 Renaissance Party members, whom authorities arrested on various charges on September 16." The day before his arrest Yorov told journalists that one of his IRPT clients had been beaten by police. Yorov was charged with forging documents and inciting violence. In January 2016, his detention was extended for two months (sound familiar?)
Nuriddin Mahkamov, Yorov colleague in defending the IRPT members, was denied an application to represent Yorov and in October 2015 was also arrested (fraud charges, in case you were curious). Zarafo Rahmoni, who was the only woman among those arrested in the IRPT sweep, had served as a legal advisor to the party.
By making lawyers into criminals, the Tajik authorities further cut off the legal process from outside observation. This not just robs the lawyers of their rights (and their profession, as criminal convictions lead to the loss of their legal license), but denies those accused of crimes by the state of representation.
United Nations Special Rapporteur on the protection of the right to freedom of expression, David Kaye, after a recent visit to Tajikistan, commented in his preliminary observations that he was denied access to IRPT members and their arrested lawyers. He noted that "lawyers defending members of political parties have faced particular harassment and prosecution."
Tajikistan may eventually run out of lawyers willing to risk representing political opposition members in court. And thanks to legislation passed in November, requiring lawyers to renew their licenses every 5 years with the Justice Ministry, it won't require a criminal conviction to drive them out of the profession.