Russia Reinforces Tajikistan Base with 100 New Armored Vehicles
100 new tanks and armored personnel carriers purportedly arrived at Russia's largest military base abroad.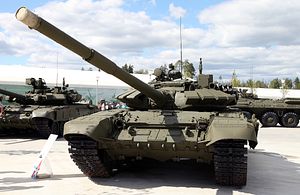 The 201st Military Base, previously known as the 201st Motor Rifle Division, garrisoning Russia's largest military facility abroad has allegedly been reinforced by approximately 100 armored personnel carriers and main battle tanks, TASS news agency reports.
"Within the planned rearmament, about 100 units of new equipment, mostly the BTR-82A armored personnel carriers, as well as more than 10 T-72B1 tanks, have been delivered to the 201st military base. The exact number is not disclosed," Yaroslav Roshchupkin, an aide to the commander of the Central Military District of Russia, told the Russian news agency on June 14.
"The new armored vehicles have increased firepower, improved crew protective system and new communication systems," he added.  The BTR-82A is an improved version of the 8×8 wheeled amphibious armored personnel carrier BTR-80, first introduced during the Afghan-Soviet War in 1986.
The T-72B1 main battle tank  (MBT) is also a much improved variant of the Soviet-designed T-72 MBT featuring a new 2A46M main gun, a new engine, thicker composite armor, and allegedly also has the capability to fire anti-tank missiles.
The 201st Military Base is stationed in two separate locations in Tajikistan: Dushanbe and Qurghonteppa. The new Russian armor traveled more than 6,000 kilometers (3,728 miles) by train to arrive in Tajikistan. At the garrisons, "helicopter and unmanned aviation units, logistics, engineering and medical support units, as well as military police personnel were receiving the armored vehicles," according to Roshchupkin.
The influx of new equipment appears to not alter the overall number of Russian troops in Tajikistan. "The same number of units of the combat equipment earlier versions was taken from Tajikistan to Russia by return trains," Roshchupkin said.
As The Diplomat reported previously, Tajikistan saw a slight downsize of the Russian military presence in the country when Russia re-organized its military districts in February. There are still approximately 7,000 troops in the country.
Russia has tried to strengthen Tajikistan's army tasked with protecting the country's 1,344 kilometer-long border with Afghanistan, where the security situation has deteriorated rapidly over the last couple of years.
"Our Tajik friends and brothers are experiencing new challenges and threats, taking into account the problems emanating from Afghanistan," Russian Deputy Defense Minister Anatoly Antonov said in February when visiting the Russian garrison in Dushanbe.
"For us it is important to understand what is going on there, what you are doing, and, of course, to render maximum assistance to the armed forces of Tajikistan by supplying arms, military equipment and providing everything necessary to boost their combat readiness," he added.