China's $1.4 Billion Port City in Sri Lanka Gets the Green Light
Plus, "two sessions," Caixin on censorship, mass incidents, and Xi's cult of personality. Friday China links.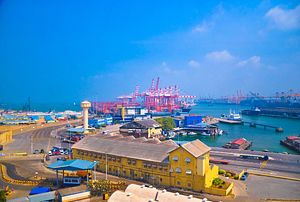 Time for your weekly round-up of China links…
A Chinese mega-project in Sri Lanka is set to recommence, after the Sri Lankan government announced that its concerns regarding the project "have been resolved." Xinhua reports that Sri Lankan Minister of International Trade Malik Samarawickrema gave the green light for the $1.4 billion project to construct "Port City" near the Colombo Harbor. He promised that the government would officially inform the Chinese company involved (China Communication Construction Company Limited) next week.
The project was initially approved under previous Sri Lankan President Mahinda Rajapaksa. When President Maithripala Sirisena took office in early 2015, however, his administration suspended the project, citing supposed irregularities in the initial approval process. Now, roughly a year after construction halted, Port City is out of limbo. The Chinese government had been pushing for renewed approval for the project ever since Sirisena's government suspended it; if all goes according to plan, Port City will be an important hub on China's "Belt and Road" (all the more so as India has shown little interest in parcipating).
Agence France-Press has more on the controversy – both environmental and strategic – surrounding Port City.
For the most part, China's "two sessions" are still dominating domestic media coverage. The main theme of this year's meetings is a familiar one: that China can (and will) overcome economic hardship to keep up its growth. This Xinhua commentary best sums up that mood, complete with supporting quotes from officials at the "two sessions."
One Chinese media outlet made international news, however, for publishing an English-language article about the censorship of one of its pieces. Unsurprisingly, the piece was quickly removed from the internet; but you can read a summary of it at The Guardian. Ironically, the originally-censored piece, an interview with Shanghai academic Jiang Hong, argued that government advisers should be "free to give Communist party and government agencies suggestions on economic, political, cultural and societal issues." Apparently, Beijing didn't like the suggestion that it should be open to suggestions about improving policy.
Over at Foreign Affairs, Tyler Headley and Cole Tanigawa-Lau delve into what data there is on China's "mass incidents" – local-level protests, which often go unreported and undocumented. Headley and Tanigawa-Lau note that local protests are on the rise, and a majority of the recent incidents are related to wage and labor issues (rather than land seizures, which previously drove most protests). However, they caution against seeing the rise in protests as evidence that economic woes will topple the Communist Party – not only are these incidents met with swift responses from authorities, but the discontent is generally limited the local government.
Finally, noted expert on Chinese politics Willy Lam explores the million-dollar question: just how long with Xi Jinping stay in power? Writing for the Jamestown Foundation's China Brief, Lam sees worrying signs – such as Xi's new title, "the core of the leadership" – that China's leader is pursuing a cult of personality, and may not be ready to hand over power in 2022, as would be traditional.