China Blocks Indian Request to Ban Pathankot Attack Mastermind at UN
Plus, the first AIIB loan recipient, China makes "non-war" activities abroad easier, and U.S.-India ties. Links.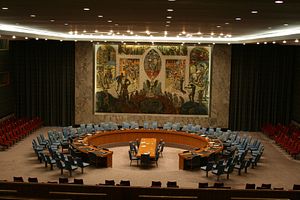 A few security and geopolitics-related stories you may have missed as the week wraps up:
China, India, and Masood Azhar. India is unhappy with a move by China at the United Nations to block an India-led initiative to designate Masood Azhar, the leader of Jaish-e-Mohammed, a Pakistan-based anti-India terror group, on the list of proscribed individuals under UN Security Council Resolution 1267. India alleges that terrorists answering to Azhar staged the attack on the Indian Air Force's base earlier this year at Pathankot. China, after consulting with its ally Pakistan, requested that the UN committee considering the designation put a hold on India's request, according to the Times of India. China has made similar moves at the United Nations in the past. For instance, last year, India was similarly outraged when China blocked an initiative to designate Zaki-ur-Rehman Lakhvi, a Lashkar-e-Taiba commander, under UNSCR 1267.
Indian Prime Minister Narendra Modi raised the issue of the Lakhvi move with Chinese President Xi Jinping at last year's BRICS Summit in Ufa, Russia. Speaking at a dinner for Nuclear Security Summit (NSS) heads of delegations in Washington, DC, on Thursday evening, Modi remarked that states needed to "Drop the notion that terrorism is someone else's problem and that 'his' terrorist is not 'my' terrorist." Perhaps that was a message directed at Xi Jinping, who sat two seats over from him during the NSS dinner.
Bonus: Michael Kugelman has a helpful profile of Masood Azhar over at War on the Rocks. As of February, Pakistani authorities maintain that he is in "protective custody."
India to be first AIIB loan recipient? Reports earlier this week citing Indian officials noted that New Delhi may be the beneficiary of the China-led Asian Infrastructure Investment Bank's (AIIB) first development loan. According to Reuters, New Delhi may receive AIIB funding as it seeks to raise $500 million for solar energy-related projects. The AIIB opened for business in January this year and has yet to approve any loans. Should India receive the first loan from the bank, the AIIB could quash criticism that the institution was set up to allow China to wield geopolitical influence through development financing.
Overseas 'non-war' activities for China get a lot more organized. On Thursday, China's defense ministry announced that it was setting up a dedicated body to coordinate the ministry's "non-war" activities overseas, including conflict zone evacuations. Though the move is mostly an internal bureaucratic matter, it represents China's aspirations to deploy military assets overseas in the provision of public goods. "In recent years, as our national and military strength have increase, the Chinese military has many times participated in overseas military actions, proactively fulfilling our international responsibilities and obligations," Yang Yujun, a spokesman for the Chinese defensem ministry, said. For instance, last spring, the People's Liberation Army-Navy was a major player in evacuating both Chinese citizens and foreigners alike from Yemen as the Saudi Arabia-led coalition began air strikes there.
Ash Carter to India in April. U.S. Defense Secretary Ashton Carter is slated to visit India in April. India and the United States are looking to conclude three important agreements during Carter's visit, which will likely be the last visit by a U.S. secretary of defense during the Obama administration. Specifically, the Indian Express notes that the " Communications and Information Security Memorandum of Agreement (CISMOA), Logistics Support Agreement (LSA) and Basic Exchange and Cooperation Agreement (BECA) for geospatial intelligence" will be signed during Carter's visit. As I've discussed at The Diplomat, the United States has grown increasingly interested in courting India to stand by its side amid growing challenges to the regional status quo from China, particularly in East Asia.