Russia to Receive Over 30 New Su-30 Fighter Aircraft
The new fighter jets are slated to enter service by the end of 2018.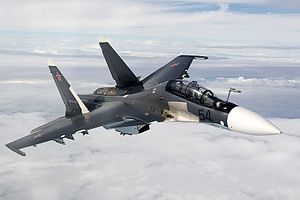 Russia has placed an order for 30 Sukhoi Su-30SM multirole fighter aircraft with the Russian aircraft maker Irkut Corporation, the Russian Defense Ministry reports. The new aircraft are scheduled to enter service with the Russian Aerospace Forces by the end of 2018, according to a April 3 press release by the defense ministry:
 The Russian Defense Ministry and the Irkut Corporation have signed a contract to supply multipurpose Su-30SM fighters to the Russian Aerospace Forces… According to the terms of the contract, over 30 multipurpose Su-30SM fighters will be delivered [to the Russian Aerospace Forces] by the end of 2018.
The contract for the purchase of the 4++ generation fighter jet was signed by Russian Deputy Defense Minister Yuri Borisov and the president of Irkut Corporation, Oleg Demchenko. The Russian military currently operates around 40 Sukhoi Su-30SM aircraft. (Next to the air force, the plane is also in service with Russian Naval Aviation.) That number is expected to rise to 60 by the end of the year.
In March 2012, the defense ministry announced that it would procure 60 Su-30SMs by the end of 2016. With the additional order of 30 aircraft, the Su-30SM has become the mainstay of Russian airpower. Three to four Su-30SMs of the Russian Aerospace Forces are currently engaged in combat operations in Syria, where they were used as escort aircraft but also conducted bombing missions.
The Su-30SM is based on the Su-30 MKI export version, an aircraft jointly developed by Russia with Hindustan Aeronautics Limited for the Indian Air Force. However, the two-seat SM is a localized variant of the MKI and unlike the latter does not contain Israeli and French avionics. It retains, however, the same airframe made of titanium and high-strength aluminum alloys and also features the MKI's AL-37FP thrust-vectoring engines among other things.
The Su30SM is a multipurpose aircraft and armed with bombs, air-to-air, anti-ship, and land attack missiles. It can be deployed as an air superiority fighter, engage naval surface vessels, or conduct land attack operations.
In February 2016, Iran announced that it intends to sign a contract with Russia for the co-production of an undisclosed number Sukhoi Su-30 fighter jets. "Should the deal go through, Iran will be the second country in the world after India to produce a variation of the Su-30 fighter jet locally," I explained.
However, as I reported yesterday, the United States stated that it would block any such sale (See: "Russia Will Ship S-300 Missile Systems to Iran Within Days").