Russia's Air Force to Receive 17 New Su-30 Fighter Jets in 2017
The latest variant of the heavy multirole fighter aircraft remains the mainstay of Russia's fighter force.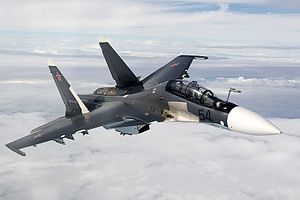 The Russian Air Force is slated to receive 17 Sukhoi Su-30SM multirole fighter jets, classified by Russian military authorities as  4++ generation fighter aircraft, in 2017, according to a press statement by Russia's deputy defense minister, Yuri Borisov, while visiting the aircraft's manufacturer Irkutsk Corporation on March 9.
"Long-term contracts have been concluded with this plant. This year it is expected to deliver 17 Sukhoi-30SM planes and ten Yakovlev-130 planes," Borisov said, according to TASS news agency. In April 2016, Russia's Defense Ministry and Irkut Corporation concluded a contract for the procurement of over 30 Su-30SM fighter aircraft by the end of 2018.
The Russian Air Force and Navy currently operate approximately 40-50 Su-30SM aircraft. Initially, the Russian military expected 60 new aircraft of the type the end of 2016, yet it is unclear how many new fighters jets have in fact joined the service. The Russian Ministry of Defense intends to induct a total of 90 Su-30SMs, according to various contracts concluded since 2012 as part of Russia's 2011-2020 State Armament Program.
"The Su-30SM is a multipurpose aircraft and armed with bombs, air-to-air, anti-ship, and land attack missiles," I explained elsewhere. "It can be deployed as an air superiority fighter, engage naval surface vessels, or conduct land attack operations." A number of Su-30SMs have been engaged in bombing missions or acted as escorts for other Russian military aircraft in Syria.
Furthermore, I noted:
The Su-30SM is based on the Su-30 MKI export version, an aircraft jointly developed by Russia with Hindustan Aeronautics Limited for the Indian Air Force. However, the two-seat SM is a localized variant of the MKI and unlike the latter does not contain Israeli and French avionics. It retains, however, the same airframe made of titanium and high-strength aluminum alloys and also features the MKI's AL-37FP thrust-vectoring engines among other things.
When fitted with extra tanks, the aircraft's range without refueling is approximately 3,000 kilometers.
On March 10, the Russian deputy defense minister also announced that the Russian Air Force will receive 16 new Sukhoi Su-34 fighter-bombers as part of an order placed by the Ministry of Defense for 92 aircraft. "This year, we expect above the plan supplies of four aircraft, and the overall amount of order for this year is 16 Su-34," Borisov said.
In addition, Borisov stated that upgrades of older variants of the Su-34 will kick off in 2018. "The program of Su-34's modernization is scheduled for 2018. We discussed with the leadership of the plant and the United Aircraft Corporation the plans of work on the aircraft as part of the future state arms program for 2018-2025."