Long Overdue: India's Modi Visits Iran, Signing Key Agreements, Setting Broad Agenda
Modi's visit marks the first bilateral prime ministerial visit since 2001.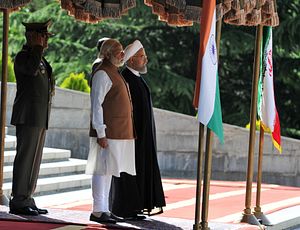 Indian Prime Minister Narendra Modi visited Iran for two days, on May 22 and 23, where he met with Iranian President Hassan Rouhani, Iranian Supreme Leader Ayatollah Khameini, and other senior officials, signing a range of important agreements. The visit is Modi's first to the country since the the implementation of the Joint Comprehensive Plan of Action (JCPOA) between Iran and a group of world powers known as the P5+1—comprising the United States, China, Russia, Germany, the United Kingdom, and France—lifted international sanctions on Iran that were put in place over its nuclear program, opening up the country's economy.
While in Tehran on Sunday and Monday, Modi and Rouhani addressed a comprehensive bilateral agenda, discussing economic cooperation, infrastructure initiatives—most importantly, the conclusion of a trilateral agreement with Afghanistan on the Chabahar Port—and regional security. The two countries also left a forward-looking agenda, seeking to advance cooperation on a range of topics going forward.
Modi and Rouhani had last met on the sidelines of the Shanghai Cooperation Organization summit in Ufa, Russia, last year, which took place shortly before the JCPOA was announced. Despite their geographic proximity, the last time an Indian prime minister visited Iran for a bilateral state visit was 15 years ago, when Atal Behari Vajpayee—India's most recent Bharatiya Janata Party (BJP) prime minister before Modi—visited Tehran.
The primary outcome document of the trip, an India-Iran joint statement between Rouhani and Modi, outlines the primary areas of progress. According to the statement, Modi and Rouhani signed agreements on cultural exchange, increasing track one and track two policy dialogues, and infrastructure development and financing. The signing of the Chabahar agreement, which was finalized in April 2016, was the capstone of the visit.
The strategically located port facility sits on Iran's southern coast, providing India with access to the Afghan market via a route that does not require land-based transit through Pakistan—a country with poor bilateral relations with both India and Afghanistan. (For more on the background of the Chabahar agreement, see here and here.) Afghan President Ashraf Ghani traveled to Iran to join Rouhani and Modi in the signing of the agreement.
Modi described the signing of the Chabahar agreement as "an important milestone," noting that it "would boost economic growth in the region." He further pledged to work toward an "early implementation" of the agreement, which will involve around $500 million in Indian financing. India will set up "plants in sectors such as fertilisers, petrochemicals and metallurgy in Chabahar [free trade zone]," according to the joint statement.
One of the major areas of focus for Modi's vist, energy cooperation, also saw some progress during the visit. Indian investment in and development of the Farzad B block in the Farsi gas field as long been a stalled area of cooperation between the two sides, primarily due to the previous international sanctions. Modi and Rouhani addressed the issue, but true progress will come later this year; the joint statement notes that the leaders anticipate "further developments including commercial contract for Farzad B later this year."
Oil, a major Iranian export, remarkably, didn't feature too prominently on the agenda during Modi's visit. India used to import 16.5 percent of all of its crude oil from Iran in 2008-2009, but, as of April 2016, India imports 22 percent of its crude oil from Iraq and 18 percent from Saudi Arabia. (Saudi Arabia had surged to 25 percent last year and held the top spot as recently as February 2016.)
In the first quarter of 2016, India's imports of crude oil from Iran accounted for 7.4 percent of its total crude oil import volume, rising from just 4 percent in early 2015. Iran is now the fifth largest energy supplier for India. Despite the fact that India imports 80 percent of its oil and Iran wants to reenter the world market for crude oil after its sanctions relief, it doesn't appear that Modi or Rouhani emphasized the topic. (Days before Modi's arrival, Indian refiners cleared part of $6.4 billion in debts owed to Iran for crude imports.)
On trade more generally, Modi and Rouhani resolved to improve "the momentum of economic engagement" between the two countries by setting out to conclude a preferential trade agreement. India additionally voiced its support for Iran's accession to the World Trade Organization. The two sides additionally aim to improve interactions between their central banks through "technical discussions."
In his address after the signing of the Chabahar agreement, with Ghani and Rouhani present, Modi stressed that the region's "present growth and future prosperity is under threat from the spread of radical ideas and physical terror." Indeed, terrorism was an important topic of discussion in bilateral talks with Rouhani as well.
The Modi-Rouhani joint statement includes a fairly lengthy paragraph on the issue of regional terrorism. Rouhani and Modi noted that "terrorism and ideologies of violent extremism continue to infest and ingress the region posing a grave threat to peace, security, stability and development." In a lightly veiled reference to Pakistan, they called for "an immediate end to all support and sanctuaries enjoyed by terrorist groups and individuals and were of the view that States that aid, abet and directly or indirectly support terrorism should be condemned." The statement adds:
They called upon all States to have zero tolerance towards terrorism, explicitly reject and stop the use of terrorism against other countries, dismantle terrorism infrastructure where it exists, end forthwith all support and financing to terrorists using their territories to harm other countries and ensure that all perpetrators of terrorism who are in their jurisdiction are brought to justice. The two sides reiterated their resolve to strengthen the international consensus and legal regimes against terrorism, including effective cooperation among the states in resolving the outstanding issues related the draft Comprehensive Convention against International Terrorism conducive to its finalization.
The strong language on terrorism is perhaps less surprising given earlier controversies this year. For example, during Rouhani's visit to Pakistan earlier this year, Pakistan's chief of army staff had allegedly brought up the issue of Iran hosting and abetting Indian espionage activities in Balochistan. Moreover, one report regarding the recent death of Mullah Mansour, the Afghan Taliban's leader, suggested that he was killed in a U.S. drone strike "after returning from Iran earlier that day."
Rouhani and Modi addressed regional security more broadly as well. They voiced their support for a "strong, united, prosperous and independent Afghanistan," and set to improve trilateral coordination with the Afghan government, building on the Chabahar agreement. Though both India and Iran avoided discussing the issue publicly, Modi and Rouhani may have discussed New Delhi's relations with Saudi Arabia—Iran's regional rival in the Middle East. Modi had visited Saudi Arabia in early April, concluding a range of agreements, including on increased defense and counter-terrorism cooperation.
While quite a bit remains to be accomplished on the broader India-Iran bilateral agenda, Modi's visit succeeded in injecting the relationship with a great deal of momentum. Despite geographic proximity, not to mention historical and cultural proximity (as Modi went to great lengths to emphasize during his speeches in Iran), New Delhi's outreach to Tehran after the JCPOA took longer than many would have liked. India's complicated relationship with Tehran appears to be on a solid upswing today, however. The onus now will be on both sides to implement the wide-randing objectives that have been set out during this visit.