Prime Minister: Vietnam Won't Pursue Military Buildup in the South China Sea
Vietnamese Prime Minister Nguyen Xuan Phuc said that Vietnam will not pursue a military buildup in the South China.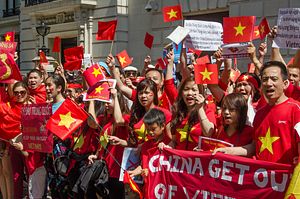 During an interview with foreign journalists, Vietnamese Prime Minister Nguyen Xuan Phuc said that Vietnam will not pursue a military buildup in the South China Sea, and means to seek a peaceful resolution to ongoing territorial disputes with China, Reuters reports.
"Vietnam does not pursue military buildup, but Vietnam pursues protecting our sovereignty, firstly with peaceful measures, diplomatic measures and even justice measures," Phuc, who was elected in April, said.
Vietnam is engaged in an ongoing territorial dispute with China over the Paracel and Spratly island chains. Tensions have recently flared up again over a Chinese oil rig operating near the mouth of the Tonkin Gulf, where China and Vietnam's exclusive economic zones overlap.
"Vietnam is a country that loves peace and Vietnam resolves international and regional issues based on international laws … in the spirit of not using force and not using force to threaten each other," Phuc added.
The prime minister's remarks came at the heel of a recent announcement that the United States would lift a decades-old embargo on the sale of lethal military equipment to Vietnam and is seen as a signal meant to assuage China.
China sees recent U.S. moves in Vietnam as part of an overall containment strategy intended, among other things, to undermine Beijing's position in the South China Sea. "Big nations should not bully smaller ones; disputes should be resolved peacefully," U.S. President Barack Obama said during a three-day visit to Vietnam this week.
"Outside countries should not threat[en] sovereignty and security of countries in the South China Sea region, undermine regional rules and order, and disrupt regional peace and stability in any form and under any excuses," a spokesperson from the Chinese Foreign Ministry retorted in response to Obama's remarks on Tuesday, according to Xinhua.
Vietnam is trying to maintain a careful balancing act between ostensibly maintaining good relations with China, while also responding to popular anger in the country about Chinese growing assertiveness in the South China Sea and growing ties with the United States.
"I repeat this again – no conflict," the prime minister emphasized, mantra-like, during the interview. However, this has not prevented Vietnam from modernizing and expanding its military forces, particularly in the maritime domain, as I reported previously:
Vietnam has (…) recently acquired advanced anti-ship and land-attack missiles from Russia for its six Russian-made 4,000-ton Type 636 Kilo-class diesel-electric submarines (five of which have been delivered so far). Additionally, Vietnam's People's Navy (VPN) is planning to expand the number of Project 1166 Gepard–class frigates from two to six by 2017. Furthermore, the VPN operates Svetlyak-class fast patrol boats, Molniya-class guided missile corvettes built with Russian assistance, and a number of other frigates and corvettes of Russian origin.
Vietnam is also expecting the delivery of six U.S.-made Metal Shark 75 Defiant patrol vessels for its Coast Guard and has plans to expand its air force.
However, "Vietnam does not have a militarization policy but we have necessary measures of working together with other countries … to ensure peace, freedom of navigation, aviation and commerce," Phuc reiterated during the interview.