US, Japan, South Korea Plan Missile Defense Exercise on RIMPAC 2016 Sidelines
The exercise will involve Aegis-equipped warships from the three countries.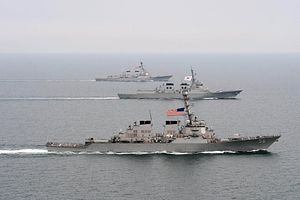 The United States, South Korea, and Japan will hold a joint exercise in Hawaii in June 2016, on the sidelines of the biennial Rim of the Pacific (RIMPAC) naval exercise; RIMPAC is the largest international maritime security exercise and will run from June 1 to August 1, 2016.
The trilateral U.S.-South Korea-Japan exercise will focus on anti-missile operations amid growing ballistic missile threats from North Korea, which has undertaken a flurry of tests since the beginning of this year to improve its missiles. The exercise will take place under the ambit of a December 2014 trilateral intelligence-sharing agreement, according to a South Korean defense ministry official who spoke to Yonhap News.
The exercise will include guided-missile destroyers from the three navies featuring the integrated Aegis Combat System. All three navies operate Aegis-equipped vessels, which specialize in ballistic missile defense against short- and intermediate-range missiles. The exercise will reportedly focus on intelligence coordination and will not involve any actual interception drills.
Aegis interceptors specialize in intercepting missiles after their boost phase, but before their reentry, unlike the Terminal High Altitude Area Defense (THAAD) interceptor system that the United States and South Korea are considering deploying on South Korean territory. Notably, current Aegis systems are not designed to intercept intercontinental ballistic missiles, but may be able to in the future.
"To hold such drills has been decided to better defend South Korea from ever-increasing nuclear and missile threats from North Korea and detailed plans have been worked out," said a defense ministry official in South Korea.
China's foreign ministry, responding to news of the impending trilateral exercise, urged restraint. Chinese foreign ministry spokesperson Hong Lei cautioned that the "situation on the Korean Peninsula is still sensitive and complex." "We hope that all parties will remain cool-headed and refrain from taking actions that may escalate tensions," Hong added. The Chinese People's Liberation Army-Navy is invited to participate in RIMPAC 2016.
Trilateral coordination between Washington, Seoul, and Tokyo regarding North Korea has grown steadily. Last year, in May, the three countries agreed to increase pressure and sanctions on Pyongyang shortly after it tested a submarine-launched ballistic missile (SLBM) and claimed that it had also miniaturized a nuclear device.
In December 2014, the three countries agreed to a military pact that enabled intelligence sharing on North Korea's nuclear and ballistic missile programs. The agreement was the first of its kind between the three states.
South Korea and Japan, despite both being U.S. allies, have a difficult bilateral relationship between them that has long forestalled expanded trilateral cooperation. North Korea's continuing missile program has helped the Tokyo and Seoul come together with the United States. Washington has played an important part in coordinating the trilateral and encouraging better bilateral ties.
For example, it was at a U.S.-South Korea-Japan trilateral meeting during the 2014 Nuclear Security Summit in the Hague that Japanese Prime Minister Shinzo Abe met South Korean Prime Minister Park Geun-hye for the first time.
Historical tensions and a low-intensity territorial dispute over the sovereignty of the Liancourt Rocks (known as Dokdo in South Korea and Takeshima in Japan) have prevented any real convergence between the two Northeast Asian neighbors.
Though the two sides reached a historic agreement to settle the issue of Imperial Japan's wartime atrocities against South Korean sex slaves, known euphemistically as 'comfort women," in December, the agreement has yet to be formally implemented.