Will Turkey Modernize Pakistan's Attack Submarine Fleet?
Istanbul and Islamabad are in talks over upgrading three Pakistan Navy diesel-electric attack submarines.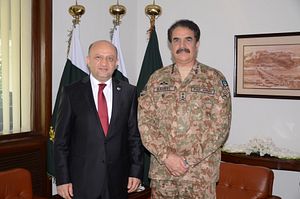 Turkish Defense Minister Fikri Işık met his Pakistani counterpart, Khawaja Muhammad Asif, on June 3 in Islamabad to discuss bilateral defense relations including a contract to modernize the Pakistan Navy's three Agosta 90B-class (aka Khalid-class) diesel-electric attack submarines equipped with air-independent propulsion systems, Hurriyet Daily News reports.
According to the Turkish daily Milliyet, Turkey's defense minister expects a deal to be signed by the end of this month. No additional details about the Turkey-Pakistan defense deal have so far been revealed.
Some Pakistani defense analysts have speculated that the upgrade could entail the modernization of the Khalid-class submarines' combat management system, by, for example, Turkish defense contractor Havelsan, who has successfully developed a combat management system for the Turkish Navy's submarine fleet — primarily consisting of variants of German Type 209 boats.
While in Pakistan, Turkey's defense minister also discussed the possible sale of four Ada-class stealth corvettes and T-129 multi-role attack helicopters. "One of the most important issues between [the two countries] is a deal for T129 attack helicopters," Işık said during a press conference.
The T-129 is a multi-role, all-weather attack helicopter co-developed by Turkish Aerospace Industries and AgustaWestland. The aircraft is currently operated by the Turkish Army and is being offered for export to a number of other countries, besides Pakistan.
Islamabad considered purchasing the helicopter a few years back, but ultimately opted for the Bell Helicopters AH-1Z Viper due to the United States' unwillingness to clear the export of the T-129's U.S.-made turboshaft engines (LHTEC CTS-800-4A, an engine primarily developed for the cancelled Boeing–Sikorsky RAH-66 Comanche helicopter).
The four Ada-class corvettes would be built in Pakistan, according to the minister, although previous press reports indicated that only three ships would be constructed in Karachi over a ten-year period. The Ada-class vessels are littoral combat warships, primarily designed for offshore and high-sea patrolling, but can also be used for anti-submarine and anti-surface warfare missions during wartime.
Pakistan has allegedly also expressed interest in Turkey's first indigenously-designed, third generation+ main battle tank (MBT) Altay. However, "[r]eports that Pakistan is interested in the Altay have to take into account that Turkey's new MBT will be an expensive acquisition for the Pakistan Army since the Altay is based on Western tank designs and will be a NATO-standard MBT," as I reported previously.
Discussions over the Altay MBT apparently did not take place during last week's visit.
During his stay, Işık also met Pakistan Army Chief, General Raheel Sharif, in Rawalpindi. "During the meeting, matters of mutual interest including regional security and defense collaboration came under discussion. Turkish Defense Minister appreciated Pakistan Army's accomplishments in Op ZeA [Operation Zarb-e-Azb] and contributions towards regional peace and stability," according to a Pakistan Army press release.