Indonesia's Borders Tested by Triple Threats
China, the Zika virus, and refugees were all tests for the Southeast Asian state in just a single week.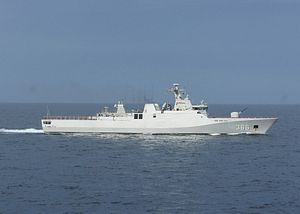 Indonesia's borders are being sorely tested. The archipelago, made up of more than 13,400 islands, has seen unwanted incursions by Chinese fishermen, another arrival of Sri Lankan Tamils seeking refuge, and alarm bells over the Zika virus – all within the past week.
Much to the agitation of Beijing and its relentless push for control of international waterways in the South China Sea – known as the East Sea in Hanoi and the West Philippine Sea in Manila – Jakarta was swift in dealing with the latest incursions.
China's nine-dash line claim extends south of Indonesia's Natuna Island, resulting in the third skirmish between naval vessels this year and Jakarta blowing-up dozens of foreign boats, mainly Chinese, caught illegally fishing in its waters.
"Our position is clear that claims can only be made on the basis of international law," Indonesian Foreign Minister Retno Marsudi told reporters. "For Indonesia, we don't have overlapping claims in any form in Indonesian waters with China."
President Joko Widodo followed up with a visit to Natuna.
Meanwhile, ethnic Tamils from Sri Lanka are proving as much of a diplomatic handful while the notorious Zika virus, which has cast a pall over the upcoming Olympic Games in Rio de Janeiro, has also left its mark.
Australia has issued travel advisories warning pregnant women not to travel to the Southeast Asian nation, in particular Bali, a very popular tourist spot for honeymooners, to where the virus has been traced.
An unspecified number of cases of the Zika virus have been reported in Indonesia over the last 15 years. But the country's health ministry insists currently there is no epidemic and says just one case has been reported recently.
In fact, health ministry official Oscar Primadi said: "Indonesia is also not an infected area."
Some health experts want this summer's Olympics postponed after Rio recorded more cases of the disease than any other state in Brazil. As a result the World Health Organization (WHO) is also advising pregnant women against traveling to the South American nation.
Forty-nine countries, including Vietnam, are on the list for recent transmissions of the Zika virus, which can cause severe malformations in unborn babies.
Zika is shaping up as another potential humanitarian tragedy, though it is just one of many. For instance, greater attention has been paid in recent years to the longstanding issue of the movement of people seeking safety from conflict or simply improved standards of living through any means possible.
Indonesia is currently home to about 13,000 asylum seekers. This week, it announced it will repatriate 44 Sri Lankans who insist on being allowed to continue their journey to Christmas Island and have their claims of alleged mistreatment by their own government processed by Australia.
Under current Australian policy, they would simply have been re-routed to camps in Nauru or Papua New Guinea, where thousands more have languished for several years.
Indonesia has been under mounting pressure from Canberra to stop refugees from traveling illegally to Australia. This time around Aceh governor Zaini Abdullah obliged, saying bad weather made the crossing too dangerous and that they would be repatriated.
Nine children and at least one pregnant woman are reportedly among the passengers. The International Organization for Migration and the United Nations have been asked to help and will be providing aid and assessing their needs over the coming weeks.
The asylum seekers have said they paid people smugglers to be delivered to Australia and reports indicate their trip originated from India. Thousands of Tamils who fled years of civil war in Sri Lanka remain in camps in southeast India, despite an end to the conflict.
They insist they will be persecuted if they return – a claim strenuously denied by the Sri Lankan government – while the Indian government will not allow them to integrate with local communities, forcing many to work as menial laborers when possible.
This has helped feed the people-smuggling business.
"For the sake of humanity the asylum seekers will be moved to a proper shelter and the government plans to repatriate them through air transportation," Zaini said, toward the end of what can only be described as a difficult week for his government.
Luke Hunt can be followed on Twitter @lukeanthonyhunt