Japan Air Defense Force Rolls Out 1st F-35A Stealth Fighter Jet
Japan is slated to acquire a total of 42 F-35A Lightning II combat aircraft in the coming years.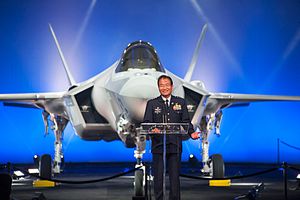 U.S. defense contractor Lockheed Martin rolled out the first F-35A Lightning II fifth-generation stealth fighter jet ordered by the Japan Air Self-Defense Force (JASDF) during a September 23 ceremony held at a Lockheed Martin production facility in Fort Worth, Texas, according to a company press release.
The ceremony in Fort Worth was attended by a number of senior Japanese defense officials including Kenji Wakamiya, Japan's State Minister of Defense, and General Yoshiyuki Sugiyama, the JASDF Chief of Air Staff.
"With its low observability and network capability, the F-35 is the most advanced air system with cutting-edge capability as a multi-role fighter. As the security environment surrounding Japan has become increasingly severe, because of its excellence, it is very significant for the defense of Japan to commit to acquiring the F-35 year by year. Given that the United States Government has designated Japan as a regional depot in the Asia-Pacific area, introduction of F-35A to Japan is a perfect example, enhancing the Japan-US alliance," Wakamiya said.
"The F-35A has remarkably advanced system. This highly sophisticated 5th generation fighter will bring a great development to air operations as a game changer. In integration with current JASDF assets, it surely promises to enormously contribute to not only the benefit of our national defense and but also regional stability," Sugiyama emphasized.
The maiden flight of the first Japanese F-35A took place in August. Japan is slated to receive a total of 42 F-35A combat aircraft through the U.S. Foreign Military Sales Program. Japan's Ministry of Defense selected the F-35A conventional takeoff and landing variant of the Lightning II as the JASDF next generation fighter aircraft in December 2011 following the F-X competitive bidding process.
The first four F-35A aircraft will be built in Fort Worth and the remaining 38 aircraft will be assembled at the Mitsubishi Heavy Industries Final Assembly & Check-Out facility in Nagoya, Japan. In December 2015, work on the first domestically produced F-35A, dubbed AX-5, began in Nagoya. According to Lockheed Martin, maintenance training for the first JASDF F-35A technicians is currently underway in Florida. The first JASDF F-35A pilots will begin training on the aircraft in Arizona in November 2016.
In addition to the F-35As, Japan intends to procure 100 new fifth-generation air superiority fighter by the 2030s.  Japan's Ministry of Defense is expected to launch a tender for a fighter jet contract estimated to be worth $40 billion in the coming months. U.S. defense contractors Boeing and Lockheed Martin have purportedly been invited to submit proposals. Japan is expected to award a contract in the summer of 2018 (See: "Japan's Air Force to Receive 100 New Stealth Fighter Jets").