Japan Rolls Out First Domestically-Built F-35 Stealth Fighter
The first Japanese-built F-35A was officially unveiled on June 5.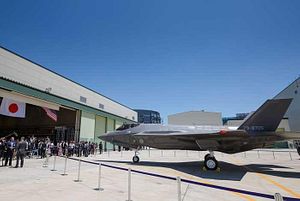 The first conventional take-off and landing (CTOL) F-35A Lightning II fifth-generation stealth fighter jet assembled in Japan was rolled out during a ceremony at the Mitsubishi Heavy Industries (MHI) F-35 Final Assembly and Check Out (FACO) facility in Nagoya, Japan on June 5.
Over 200 people attended the ceremony, including senior Japanese and U.S. defense officials and industry leaders, according to a U.S. Forces Japan press release. "The F-35 will enhance the strength of our security alliances and reinforce long-established bonds with our allies through training opportunities, exercises, and military-to-military events," Vice Admiral Mat Winter, F-35 program executive officer, said in a statement.
The Japan Air Self-Defense Force is slated to deploy the first license-built fighter jet at Misawa Air Base in Aomori Prefecture in the northern part of the island of Honshū later in the year.
Japan's first foreign military sales (FMS) F-35A was rolled out on during a September 23 ceremony held at a Lockheed Martin production facility in Fort Worth, Texas, following its maiden flight in August (See: "Japan Air Self Defense Force Rolls Out 1st F-35A Stealth Fighter Jet"). The aircraft was officially handed over at Luke Air Force Base in Arizona on November 29, The Diplomat reported.
The first four JASDF F-35A fighter jets were previously delivered from the Fort Worth, Texas, production facility, with the remaining 38 aircraft to be assembled at the MHI FACO facility in Nagoya. Work on the first Japanese-produced F-35A started in December 2015 with the F-35 components manufactured abroad, and imported and assembled in Japan. Japanese companies did not participate in the aircraft's development.
Expectations that Japan's aircraft industry would play a larger role in production of the F-35A  (e.g., producing part of the F-35's fuselage in the country) remain unfulfilled so far, Nikkei Asian Review reported this week. Due to export restrictions, Japan will also not have access to some of the more sensitive technology of the F-35A during the assembly process at MHI FACO.
The first operational unit of Japan-built F-35A will be used for JASDF pilots' flight training in the United States. JASDF F-35A technicians have already undergone extensive schooling and training in Florida earlier this year, as part of the Pentagon's first F-35 FMS training program.
Japan's Ministry of Defense selected the F-35A CTOL variant of the Lightning II as the JASDF's next generation fighter aircraft in December 2011 following the so-called F-X competitive bidding process. However, it is unclear whether the JASDF will order additional F-35 fighter jets.
The Japanese government is expected to award a contract for the procurement of up to 100 new fifth-generation air superiority fighter in the summer of 2018 (See: "Japan's Air Force to Receive 100 New Stealth Fighter Jets"). The future defense contract will be worth over $40 billion. So far, U.S. aircraft maker Boeing has expressed interest in bidding for the contract along with the Eurofighter consortium and Swedish defense contractor SAAB.