Is North Korea Working on a Second Ballistic Missile Submarine?
Satellite imagery suggests a new North Korean submarine is under construction.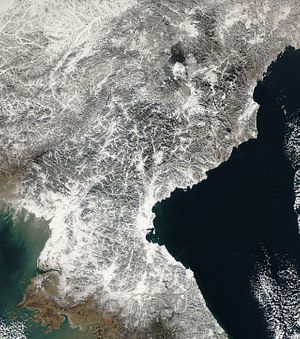 Could North Korea have started work on a successor submarine to its lone, still-in-testing Gorae-class ballistic missile submarine? Recent satellite imagery analysis by Joseph Bermudez over at 38 North finds intriguing evidence that Pyongyang has laid the groundwork for a larger successor submarine at its Sinpo South Shipyard. The Gorae-class project (also known as the Sinpo-class) is the backbone of North Korea's burgeoning at-sea deterrent, with the KN-11 submarine-launched ballistic missile at its center. North Korea has repeatedly tested the KN-11 since late 2014, both from submerged barges and from its lone ballistic missile submarine.
Satellite imagery acquired between January and September this year shows considerable buzz around the Sinpo South Shipyard's construction and fabrication halls. Bermudez notes the "appearance and movement of raw steel, fabricated sub-components, and finished components around the facilities' construction and fabrication halls." Above all, he observes that "the presence of an approximately 10-meter-in-diameter circular component outside the facility's recently renovated fabrication hall may be intended as a construction-jig or as a component for the pressure hull of a new submarine."
While no direct observable evidence points to the construction of specifically a ballistic missile submarine, the size of the observed 10-meter component would suggest a slightly larger submarine than the existing Gorae-class boat. Moreover, it would only make sense for North Korea to build additional ballistic missile submarines as it continues to make progress with its KN-11 program, demonstrating with each launch that it's getting closer to operationalizing an accurate, medium-range sea-based nuclear delivery vehicle.
Moreover, as Jeffrey Lewis has observed, the submarine-launched KN-11 has an interesting strategic interaction with attempts by the U.S.-South Korea alliance to keep North Korean ballistic missile threats at bay by deploying increasingly advanced missile defense systems, the latest of which is, of course, the Terminal High Altitude Area Defense System, or THAAD. A single Gorae-class submarine suggests that South Korea, due to limitations on the detection angle inherent to the THAAD AN/TPY-2 X-band radar, would need a second battery.
Finally, with more than one submarine – and potentially more to come – North Korea, in the event of war, could be able to launch multiple projectiles simultaneously. Moreover, as it demonstrated during its test launch of extended range SCUD missiles during the Hangzhou G20 meeting this year, Pyongyang is able to launch multiple ballistic missiles in quick succession. Finally, given North Korea's fifth nuclear test last month, which purported to have tested a compact warhead, it's clearer than ever that Pyongyang's long-stated aim to operationalize ballistic nuclear delivery is nearing reality.