Russia Unveils 1st Image of New Intercontinental Ballistic Missile
The new missile will reportedly be capable of penetrating any missile defense system.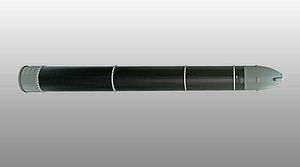 Russia unveiled the first image of a new super-heavy thermonuclear-armed intercontinental ballistic missile, the RS-28 Sarmat, on October 23. The Makeyev Rocket Design Bureau in the city of Miass, located in Chelyabinsk Oblast in the Ural Mountains region, posted a declassified picture of the prospective new missile on its website. Accompanying the picture was a short statement signed by the missile's chief designers, V. Degtar and Y. Kaverin:
In accordance with the Decree of the Russian Government 'On the State Defense Order for 2010 and the planning period 2012-2013,' the Makeyev Rocket Design Bureau was instructed to start design and development work on the Sarmat. In June 2011, the Bureau and the Russian Ministry of Defense signed a state contract for the Sarmat's development. The prospective strategic missile system is being developed in order to assuredly and effectively fulfill objectives of nuclear deterrent by Russia's strategic forces.
Russia's newest super heavy liquid-propelled thermonuclear ICBM reportedly can carry ten heavy or 15 (some sources say 16) lighter warheads. The RS-28 Sarmat is expected to enter service with Russia's Strategic Missile Force by 2020, replacing Soviet era RS-36M ICBMs. (Russia plans to retire all Soviet-era ICBMs and replace them with new weapon systems by 2022.)
According to Russian media reports, the missile's first stage engine PDU-99 was tested in August. No other tests have been publicly revealed so far. The first test-launch of the missile is reportedly scheduled for November or December of 2016. Russia announced in January that it would conduct a total of 16 ICBM test launches in 2016, with 14 dedicated to testing new missiles and warheads including the RS-28 Sarmat (See: "Russia to Launch 16 Intercontinental Ballistic Missiles in 2016").
"The development of the Sarmat silo-based missile system with a heavy missile is nearing completion,"  the commander of Russia's Strategic Missile Forces, Colonel-General Sergei Karakayev, said in May (See: "Russia Developing New Nuclear Missiles Capable of Penetrating US Defenses"). "The performance of the stationary grouping of the heavy ICBM (of the Voyevoda or Sarmat class) will four times surpass that of the stationary grouping of the light-class ICBM (Topol-M, Yars) by all the RVSN [Strategic Missile Forces] grouping tactical effectiveness parameters," he added.
Russia has also been working on a new hypersonic glide vehicle (HGV), the YU-71, under the secret Project 4202, a warhead purportedly capable of penetrating any missile defense shield that can be mounted on the SR-28. "A YU-71 HGV warhead mounted on a Sarmat ICBM could be one of the deadliest nuclear weapons fielded since the end of the Cold War," I reported elsewhere. According to Sputnik News, the Sarmat ICBM can wipe out an area the size of Texas or France, while "its higher speed performance will enable it to speed past every missile defense system in existence."