Is Donald Trump Really Good News for China?
Some of Trump's foreign policy pronouncements are music to China's ears — others are anathema.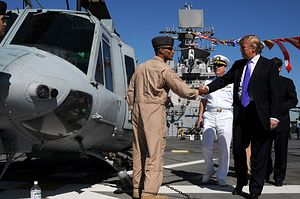 On Tuesday, Republican candidate Donald Trump was elected the next president of the United States. The world has been watching the race with interest – as made clear in The Diplomat – and China is no exception.
Chinese Foreign Ministry spokesperson Lu Kang was asked repeatedly for China's thoughts on the future President Trump during Wednesday's daily press briefing. Lu stuck mostly to the predictable boilerplate statement that China hopes "that the new U.S. government can make joint efforts with China to present a steady and sound bilateral relationship to people from the two countries and beyond," a line he repeated with some minor modifications in response to four separate questions.
The one issue Lu was willing to expand on a bit was a question about economic policy – specifically, Trump's repetition of the oft-heard claim that China is 'stealing' American jobs. "[A]s you can see, [the] China-U.S. economic and trade relationship is a mutually beneficial and win-win one… As for some specific disputes in economy and trade, there are ready-to-use and mature frameworks and models to resolve them[…]"
Chinese President Xi Jinping, meanwhile, has already reached out to offer his congratulations to Trump. According to Xinhua, Xi sent a message to Trump expressing a wish to work together "to push China-U.S. relations further forward from a new starting point."
On the surface, China has several reasons to be pleased with Trump's election. For one thing, Chinese officials and scholars alike have a generally negative perception of former Secretary of State Hillary Clinton, Trump's major opponent in the race. In her time heading the State Department under Barack Obama, Clinton was the public face of the administration's "pivot to Asia," which caused consternation in Beijing. In China, Clinton is seen as both hawkish on security issues like the South China Sea and invested in human rights causes – a combination that spells an instant headache for Chinese policymakers.
In general, China prefers Republican presidents, as there's a sense that the pro-business Republican Party would not jeopardize U.S.-China relations. But, as Beijing will discover, Trump may have run as the party's candidate, but he is not Republican in the traditional sense. Trump represents a new, populist faction of the party that shows no indication of cleaving to the business-friendly policies of the past. Beijing might rejoice that the U.S.-led Trans-Pacific Partnership trading agreement (which left China out in the cold) stands no chance under President Trump, but a Trump administration is equally unlikely to pursue trading agreements with China (such as the long-discussed Bilateral Investment Treaty).
Meanwhile, there are Trump's promises to stop China from "raping" the United States by imposing hefty tariffs on Chinese exports. Chinese policymakers are convinced that Trump's anti-China trade rhetoric is no different from previous campaign trail statements – but given the groundswell of popular anger over economic issues in the U.S., plus Trump's unconventional approach, there's no guarantee he will abandon these promises as easily as other presidents-elect have. With China's economy already in a period of slowing growth, a trade war with the United States would be disastrous.
Chinese scholars might be tempted to find comfort in Trump's equally unconventional stance on U.S. alliances in the Asia-Pacific. Yet, as Chinese scholar Wang Dong pointed out for The Diplomat, while Beijing would welcome looser security ties between Washington and its allies in Tokyo and Seoul, Trump's blasé attitude toward U.S. partners pursuing their own nuclear weapons is concerning for China.
Meanwhile, there are also indications that President Trump will not abandon U.S. allies but rather strengthen the U.S. security presence in the region – with a clear eye toward hemming in China. Trump, who has no experience in office at all, much less foreign policy experience, is likely to be more reliant than most presidents on his advisers. On China in particular, Trump has shown almost no interest in geopolitical strategy, focusing instead on bilateral economic relations. That means Trump's own rhetoric might not be the best way to evaluate broader China policy under a Trump administration; his advisers' positions are likely to be closer to the actual policy decisions made. And while we'll need to wait before top positions like secretaries of state and defense, as well as national security advisor, are filled, there are already hints that those with Trump's ear favor a more hawkish China policy
A recent article for Foreign Policy by two Trump campaign advisers, Alexander Gray and Peter Navarro, has the central argument that the Obama administration has not been tough enough on China (and Asia-Pacific security issues more generally). Dismissing the "rebalance" to Asia under Obama as "talking loudly but carrying a small stick," Gray and Navarro conclude that "Secretary Clinton's weak pivot follow-through has invited Chinese aggression in the East and South China Seas." The obvious corollary is that Trump will take a tougher line – what Gray and Navarro call pursuing "peace through strength." That entails a number of policy prescriptions that are anathema to Beijing, from more robust arms sales to Taiwan to a build-up in the U.S. Navy, with a particular eye toward negating China's numerical advantage.
If these policies wind up being the ones pursued under Trump, China will likely think wistfully about what could have been under Hillary Clinton. For, as much as Chinese officials might dislike Clinton for her previous rhetoric and policy decisions, she operates well within the bounds of traditionally acceptable U.S. China policy. There is no guarantee that Trump will do the same; in fact, he was elected on the promise to overturn elite consensus and shake-up American policy across the board.
That leaves China facing a wide range of possible futures. Trump could follow his advisers' lead and adopt a hawkish foreign policy that encroaches on China's "core interests." On the other hand, it's possible that Trump could be persuaded, likely using economic means (with a healthy dose of the flattery China excels at) to agree to the sort of "grand bargain" China has long wanted: a reduced U.S. presence in the western Pacific in exchange for China's support on extra-regional issues and its promise not to interfere in America's "backyard." And between those two extremes lies a whole range of possible outcomes.
If there's one thing China values above all else, it's stability. And, as Yuki Tatsumi wrote in an overview of the implication of Trump's election for Asia, right now uncertainty is the only sure thing. In a major foreign policy address in April, Trump advocated for the United States to "be more unpredictable… And we have to be unpredictable starting now." China may find that a predictably tough-on-China president (as Beijing assumed Clinton would be) is ironically more in its interests than an unpredictable Trump.