North Korea Could Be Preparing For Another West Coast Musudan Test
Pyongyang is likely gearing up for another Musudan test launch — possibly its ninth this year.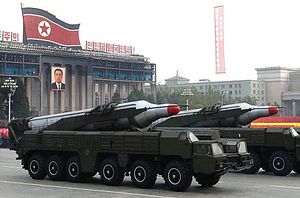 North Korea could soon test another of its Hwasong-10 (Musudan) intermediate-range ballistic missiles, according to a report citing a U.S. intelligence assessment. The expectation isn't entirely surprising.
Since first testing the Hwasong-10 in April 2016, to coincide with Kim Il-sung's 104th birthday, North Korea has encountered difficulties, with just the sixth test launch of the system succeeding in June. Pyongyang most recently carried out two tests of intermediate-range missiles, both of which failed at launch and were reported as "presumed" Musudan missiles by U.S. Strategic Command.
Since it started testing the missile earlier this year, the Musudan has quickly become one of the most frequently tested long-range missile platforms in North Korea's arsenal.
The Hwasong-10 has particular relevance for North Korea. When performing up to spec, it is capable of striking the U.S. Pacific territory of Guam, host to Andersen Air Force Base, the very site from where nuclear bombers that often fly near North Korean airspace after provocative nuclear and missile tests are based.
Earlier this year, the U.S. Air Force concurrently based B-52, B-1, and B-2 strategic bombers in Guam, following a spate of missile tests and a January nuclear test by North Korea. (The bombers also conducted coordinated flyovers of the South China Sea.)
North Korea's most recent test in October coincided with the start of the third U.S. presidential debate and while the test didn't earn the country a mention at the event, it's likely that Pyongyang may attempt another test — hoping for success this time — before the U.S. elections next Tuesday.
Pyongyang's two October test attempts were notable for taking place at a western coast site, from Kusong. North Korea watchers have surveyed satellite imagery from late October at Kusong, suggesting that another test may indeed be in the offing soon.
North Korea's testing this year suggests that the Hwasong-10 is an increasingly important platform for Kim Jong-un's bid to attain a credible long-range nuclear delivery capability.
The one successful Musudan launch this year demonstrated a high degree of success, with the missile reaching a 1,000 kilometer apogee and traveling 400 kilometers from its launch site near the city of Wonsan, on North Korea's eastern coast.