North Korea Launches Unknown Ballistic Missile Into Sea of Japan: What We Know
The test is the first North Korean ballistic missile test in 2017 and the first of Donald Trump's presidency.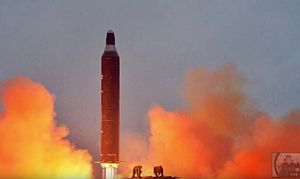 On Sunday morning, at roughly 7:55 a.m. Korea Standard Time (KST), North Korea launched an unknown ballistic missile from its western coast, according to South Korea's Joint Chiefs of Staff.
The missile was fired with an eastward trajectory into the Sea of Japan and flew for approximately 500 kilometers, according to the South Korea's JCS.
According to South Korea's Yonhap News Agency, the South Korean JCS noted that the missile has not been identified, but was launched from Banghyeon in North Pyongan Province.
North Korea's last-known missile activity was a reported ejection test of its KN-11 submarine-launched ballistic missile (SLBM) in December — a test that Pyongyang did not publicize.
At this time, no other details around the launch have been confirmed by either the South Korean side or United States Strategic Command (STRATCOM), which has only confirmed that a launch occurred, but not yet specified a missile type.
However, based on the early information, it does not appear that this is the anticipated first-ever North Korean intercontinental ballistic missile test.
President Trump's First North Korean Missile Launch
Sunday's launch comes as Japanese Prime Minister Shinzo Abe and U.S. President Donald Trump continued talks in Florida during Abe's first state visit to the U.S. since Trump's January 20 inauguration.
A joint statement released by the two leaders on Friday urged North Korea to "abandon its nuclear and ballistic missile programs and not to take any further provocative actions."
Last year, for the first time ever, a North Korean Nodong intermediate-range ballistic missile test into the Sea of Japan splashed down in Japan's exclusive economic zone, outraging Japan.
Abe described that test as a "grave threat" and "an outrageous act that cannot be tolerated."
Sunday's missile test is the first of 2017, the first of Trump's presidency, and comes amid a review of North Korea policy by the new U.S. administration.
The test additionally comes days after U.S. and South Korean officials announced that this year's Key Resolve/Foal Eagle joint drills will be the largest-ever to date.
North Korea strongly opposes the exercises and has said they are a ruse by the U.S.-South Korea alliance to stage a preemptive attack against the Pyongyang regime.
A statement from North Korea's Committee for the Peaceful Reunification of the Fatherland called the exercises "nuclear war rehearsals" in early February.
The test is additionally the first since South Korean President Park Geun-hye was formally impeached from office in December 2016 following an influence-peddling scandal.
South Korea anticipates a presidential election later this year where the country's North Korea policy and the future of the U.S.-backed Terminal High Altitude Area Defense (THAAD) interceptor system will be important issues.
In early February, U.S. Defense Secretary Jim Mattis, in Seoul, promised an "overwhelming" response to any North Korean use of nuclear weapons.
Another Musudan?
Given the proximity of the launch site to the two failed missile tests in October 2016 that had been described as "presumed Musudan" tests, it is possible that North Korea attempted a third test of a Musudan (Hwasong-10) variant it may have attempted to test back then.
Including the two October 2016 failed "presumed Musudan" tests, North Korea has attempted 8 tests of the missile type, beginning in April 2016. Only one test of the eight demonstrated a high degree of success, flying for 400 kilometers on a lofted trajectory while reaching an apogee of 1,000 kilometers, according to Japan's former defense minister.
There is, however, a possibility that Sunday's test could also involve a new North Korean intercontinental ballistic missile prototype that was first described by South Korean intelligence in January 2016.
As I wrote for The Diplomat, that missile was described as a shorter variant of the existing and untested KN-08 and KN-14 ICBMs.
Technical details aside, this test is significant for being the first significant North Korean provocation for the new U.S. administration.
Pyongyang's lack of serious missile test in November, December, and January suggested that it may have been waiting for the Trump administration to enter office and possibly revisit the Obama administration's North Korea policy.
Despite its saber-rattling over an ICBM test in January, I'd noted that such a test would be unlikely immediately around or after Trump's inauguration, as it'd force the administration into taking an uncompromising position toward North Korea.
North Korea's primary diplomatic objective is direct talks with the United States without any initial compromises on its ballistic missile or nuclear weapons programs, which are central to Kim Jong-un's byungjin line.
Update: U.S. Strategic Command confirmed in a statement that the missile involved was a "medium- or intermediate-range ballistic missile" and "occurred near the northwestern city of Kusong."
Update 2: Trump and Abe delivered a joint statement condemning the launch from Trump's Mar-a-Lago estate in West Palm Beach, Florida. Abe described the launch as "intolerable" and called on North Korea to comply with existing United Nations resolutions. Trump noted that the United States stands "one hundred percent" behind Japan.