What Did Xi Jinping Say to Donald Trump?
Reading between the lines of the Chinese president's message to his future U.S. counterpart.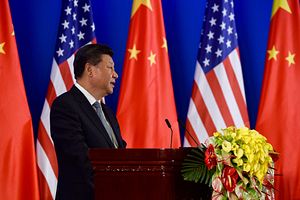 Confusion arose the first weekend after the 2016 U.S. presidential election when China's state news agency, Xinhua, said Chinese President Xi Jinping had sent a congratulatory message to the U.S. President-elect, Donald Trump. Trump's camp, meanwhile, denied that he had spoken with or heard congratulations from Xi. Chinese officials did not confirm whether there had been a phone call and refused to comment on the reports.
Finally, China Central Television (CCTV) corroborated that Xi, indeed, had held a telephone conversation with his future counterpart on Monday. In the call, Xi reportedly called for "mutual respect" and emphasized that "cooperation is the sole correct choice" for China and the United States. According to the Wall Street Journal, Trump's office confirmed the call in a statement. According to the statement, Trump echoed Xi's sentiments, stating that he believed "the two leaders will have one of the strongest relationships for both countries moving forward."
Although the initial confusion was cleared up, it is still worthwhile scrutinizing every single word in Xi's congratulatory message and phone call. After all, Trump castigated China through his campaign, vowing at various points to slap a 45 percent tariff on all imports from China and label the country as a currency manipulator on his first day in office. It is far from clear how much of Trump's harsh campaign rhetoric toward China will become policy and to what extent he will be consistent with his beliefs.
China is now facing slowing economic growth and big local government debts at home, a pro-independence leader in Taiwan, and escalated and unresolved tensions with Japan and some of the South China Sea claimant states (though one claimant, the Philippines may "pivot" away from the United States and draw closer to Beijing). And now Trump brings uncertainty to the U.S.-China relationship. His unpredictability and a lack of political experience seem daunting for China.
To understand the hidden meaning in Xi's congratulatory message, we must distinguish two signals that differ from his past rhetoric, ideas, and beliefs.
First, in his first congratulatory message to Trump, Xi avoided explicitly mentioning the concept "new type of great power relations," known as xinxing daguo guanxi in Chinese, although he implied the meaning of this term. Embedded in this concept is China's hope to avoid the Thucydides Trap, its expectation to be treated as an equal, and its willingness to be a shaper (if not yet maker) of the international order. Xi reiterated the term "new type great power relations" and championed the vision every time he met President Barack Obama, in an apparent desire to put forward the notion and have his U.S. counterpart echo the position. By contrast, the United States accepted the framework at first but soon jettisoned it and has not endorsed the term in recent years. Instead, Washington views the concept with suspicion and criticism. The United States cannot grasp the enriching meaning behind the phrase and worries about the impact on its security allies and partners in Asia-Pacific should Washington support an idea defined by China.
Even so, Chinese officials constantly raise the phrase "new type great power relations" at home and abroad. It's noticeable that the phone call with Trump was the first time that Xi had not brought up the term in an official interaction with the United States. This may imply that Xi either has removed the term from the table temporarily or no longer has enough enthusiasm to address the formulation, choosing instead to concentrate more on how to deal with real problems and surmount difficulties.
Second, this was the first time that a Chinese president had addressed the differences between the two countries in a congratulatory message. Xi stated, "China hopes to work with the U.S. to control differences in a constructive way," according to Xinhua. Compared with Xi, his predecessor President Hu Jintao seldom mentioned differences directly. For example, Hu consistently mentioned the "wide range of common interests and basis for cooperation" in his congratulatory messages to his U.S. counterparts in 2004, 2008, and 2012, without identifying the differences. Xi also stressed that the two sides must strengthen coordination and cooperation, but on the other hand, he implicitly acknowledges differences as a thorny problem and thus stressed how to manage these differences in a constructive way. China and the United States have very different stances on issues like currency policy, tariffs, cybersecurity, and territorial disputes. Furthermore, Trump is looking at ways to rapidly withdraw from the Paris climate agreement, which may disconcert China. The Obama administration billed landmark U.S.-China climate change cooperation as one of the biggest achievements between the two countries.
The hidden meaning in Xi's congratulations to Trump reflects China's uncertainty toward the U.S. president-elect, as Trump can easily overthrow the framework and commitments set and built up by Xi and Obama. Trump is a puzzle for China. Although he has not formally outlined his China policy, his advisers have sent disparate messages through various channels. James Woosley, a senior adviser to Trump, referred to the Obama administration's rejection of the China-led Asian Infrastructure Investment Bank (AIIB) as a "strategic mistake," according to his article published in South China Morning Post. However, a recent article published in Foreign Policy by two other Trump advisers, Alexander Gray and Peter Navarro, argue that the "Pivot to Asia turned out to be an imprudent case of talking loudly but carrying a small stick." They suggest a tougher U.S. China policy by pursuing a strategy of "peace through strength," which was the core of Ronald Reagan's foreign policy.
Despite the optimistic tone in Xi's congratulations to Trump, one should be wary of the minor wording changes, which reflect Chinese uncertainty and an unnerved attitude toward Trump. Undoubtedly, Trump's isolationist policies could give China an opportunity to shape and establish the regional order in East Asia. However, his unpredictability, iconoclastic ideas, protectionism, and populism may damage Sino-U.S. relations.
Han Ze is a second-year Master's student in School of International Studies at Peking University. He is now in Seoul National University as an exchange student. He was the intern at Tsinghua-Brookings Center and Development Research Center of the State Council.