What's India's President up to in Nepal?
The India-Nepal reset continues, with the first Indian presidential visit to Nepal in 18 years.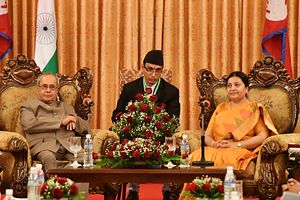 Indian President Pranab Mukherjee is currently on a three-day visit to Nepal, making him the first Indian president to visit the country in 18 years. His visit is poised to continue a period of rapprochement between Kathmandu and New Delhi that began after Nepal saw a change in leadership this summer when former Prime Minister Khadga Prasad Oli failed to survive a vote of no-confidence, leading to the ascension of Pushpa Kamal Dahal, also known as Prachanda.
As I've discussed previously in The Diplomat, India and Nepal have undergone a difficult year in relations following the promulgation of a new constitution in Kathmandu in September 2015. That constitution led to widespread protests by Nepal's Madhesi, Tharu, and other minority communities in the south, many of whom have close ethnic, linguistic, and cultural ties to India. New Delhi chose to side with the protesters, calling for constitutional change in Nepal, alienating Kathmandu elites. Notably, the former prime minister sought to distance Nepal from India, pursuing energetic outreach to China. Nepal also charged India with instituting an economic blockade — a charge New Delhi denied, saying that truck drivers refused to cross the border with goods and supplies amid the protests in southern Nepal.
Prachanda, shortly after coming to office in late July, sought to right Nepal's foreign policy between its two giant neighbors. Acknowledging Nepal's historically close ties with India, the prime minister also visited India in September, meeting with Indian Prime Minister Narendra Modi and other senior officials. The last few months have seen India and Nepal "reset" their ties, hoping to move past the difficult year following the constitutional crisis in Nepal. Moreover, Prachanda visited India again in October for the joint BRICS-BIMSTEC meeting, where he most remarkably joined both Modi and Chinese President Xi Jinping for a rare trilateral meeting. (Xi is expected to visit Nepal soon.)
Mukherjee, as the Indian head of state, was received by his Nepali counterpart, President Bidya Devi Bhandari, upon his arrival in Kathmandu on Wednesday. His visit takes on important symbolic value and unusually involves travel to multiple nodes in Nepal outside of Kathmandu. As the Hindustan Times' Prashant Jha helpfully contextualizes, Mukherjee's impending visits to Janakpur and Pokhara bear special significance during this visit.
For India, in addition to restoring lost bonhomie and momentum in bilateral ties, there is a stronger impulse driving current outreach. With China's interest growing in Kathmandu, India is looking to emphasize that geographic, economic, and historic realities mean that Nepal will find it prohibitive to pursue the sort of ties with China that it has with India. Indeed, the geopolitics of a tussle between India and China for Nepal were overplayed during Kathmandu's post-constitutional crisis outreach to Beijing. With Mukherjee's visit, the two countries are set to seal in the "reset" that begin with Prachanda's outreach to India.