Trump's Taiwan Phone Call: China Reacts
China tries to be both stern and dismissive, even while Taiwan outlines the content of the conversation.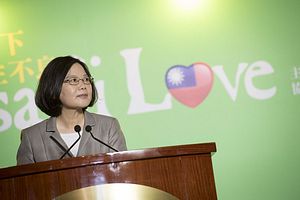 Yesterday, at 10 am U.S. Eastern time, U.S. President-elect Donald Trump spoke with Taiwanese President Tsai Ing-wen on the phone, breaking with nearly 40 years of U.S. foreign policy tradition. Since the United States normalized relations with Beijing, according to the "one China" policy, there has been extremely limited formal contact between officials from both sides, and never (at least to public knowledge) between two presidents.
Trump, as is his habit, took to Twitter to defend his decision. "The President of Taiwan CALLED ME today to wish me congratulations on winning the Presidency. Thank you!" he tweeted, emphasizing that he had not initiated the call.
He followed that up with another tweet: "Interesting how the U.S. sells Taiwan billions of dollars of military equipment but I should not accept a congratulatory call."
The United States has conducted regular military sales to Taiwan under the Taiwan Relations Act even after formally severing diplomatic ties. But even though those arm sales are an expected dynamic in the U.S.-China-Taiwan triangle, they still irk Beijing – Chinese defense officials regularly cite the continuing arms sales as their number one concern in the U.S.-China defense relationship. Any new shift in cross-strait relations will obsess policymakers in Beijing.
Meanwhile, though Trump noted that Tsai initiated the call, she did so while Stephen Yates, an adviser with the Trump transition team, was visiting Taiwan.* That's likely not a coincidence. CNN, citing a "source familiar with [Yates'] visit," said that he "helped facilitate the call." So while Trump implied that he simply picked up the phone when Tsai called, there's at least circumstantial evidence that his team (Yates is expected by some sources to hold a future White House position) coordinated the outreach.
*Update: Yates clarified via Twitter that he is planning to travel to Taiwan but has not yet made the trip.
Beijing had to puzzle over these various factors in formulating its approach. Added to the mix is the complication that the Obama administration, not Trump, is currently in power, limiting the effectiveness of normal channels for expressing displeasure. Ned Price, the spokesman for the National Security Council, was quick to release a statement reassuring Beijing, saying, "We remain firmly committed to our 'one China' policy… Our fundamental interest is in peaceful and stable cross-strait relations."
Price also mentioned that presidents-elect usually seek "expertise and counsel" from the State Department before wading into the thorny cross-strait issue. That seems to be a veiled barb at Trump, given reports that Trump's team didn't consult with the White House or State before accepting the call.
China, perhaps to hedge its bets, took a two-fold approach to responding. It made its displeasure clear by lodging representations with the United States, according to Foreign Ministry spokesperson Geng Shuang. "The world has only one China, Taiwan is an inalienable part of China's territory, and the government of the People's Republic of China is the only legitimate government representing China," Geng said.
He followed up with a message directed at the incoming president:
"The one China principle is the political foundation for China-U.S. relations. We urge the relevant American side to abide by and carry out the one China policy, to respect the promises and prudence of the three China-U.S. joint communiques, and to appropriately handle the Taiwan issue in order to avoid a needless disruption to the larger China-U.S. relationship."
However, even while making its official position known, China also sought to downplay the seriousness of the call. Foreign Minister Wang Yi himself dismissed the conversation as "a little trick" by Taiwan. "I don't think it will change the one-China policy of the U.S. government," he said.
That seems to set the stage for China to aim its anger squarely at Tsai, rather than at the incoming U.S. president. Cross-strait relations are already frosty; Beijing severed official communication mechanisms after Tsai took office, citing her refusal to embrace the "1992 consensus" as the reason. Given that background, Beijing is primed to interpret Tsai's call to Trump as an attempt to garner more international recognition. In response, China may seek to apply an economic squeeze to the island.
For its part, Taiwan's Presidential Office confirmed the call in a statement, saying Tsai had congratulated Trump and expressed her admiration for his victory in a "fiercely competitive election." Tsai also expressed her confidence that Trump will have an "outstanding" administration upon taking office. The statement characterized their roughly ten-minute conversation as "cordial and relaxed."
However, beyond the usual niceties, there was real substance to the call as well. According to Taipei, both sides exchanged views on key points regarding the incoming administration, especially "boosting domestic economic development and strengthening national defense." They also "briefly" discussed Asia's regional situation. Tsai expressed her expectation that the United States and Taiwan will strengthen ties under President Trump, and her hope that his administration with continue to support a greater role for Taiwan on the international stage.