Pakistan Commissions 2 New 600-Ton Maritime Patrol Vessels
The two vessels are currently on their voyage home from China.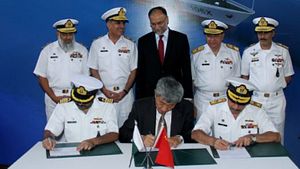 Pakistan has commissioned two new Maritime Patrol Vessels into service with the Pakistan Maritime Security Agency (PMSA), IHS's Jane's Navy International reported on December 29. The ships, christened PMSS Hingol and PMSS Basol (pennant numbers 1070 and 1071 respectively), were commissioned on 11 December 2016 in Guangzhou, China.
The two new ships are the result of an agreement reached by China Shipbuilding Trading Company (CSTC) and Karachi Shipyard & Engineering Works (KSEW) in 2016 for the construction of six new vessels for the PMSA with the former constructing four vessels and the latter two. According to the agreement, four vessels will be of the 600-ton variant, whereas two vessels will displace 1,500 tons. (China and Pakistan will construct one 1,500-ton Maritime Patrol Vessel each.)
As I reported previously (See: "Pakistan Begins Construction of 600-Ton Maritime Patrol Vessel"):
Initially, all six new PMSA ships were supposed to be assembled in Karachi. However, KSEW lost the construction bid due its purported inability to keep production costs lower than CSTC. China and Pakistan signed a transfer-of-technology agreement for the construction of the six vessels in June 2015.
"The 600-ton Maritime Patrol Vessel is a state of the art, multi mission vessel with steel hull and aluminum super structure. (…) this ship will be fully equipped to enforce maritime security, search and rescue missions in Maritime Exclusive Economic Zone of Pakistan [sic]," a PMSA press release from May 2016 reads.
The new Maritime Patrol Vessel will likely be able to accommodate a helicopter and a number of rigid-hull inflatable boats. Apart from that, technical details remain sparse. In May 2016, I referenced an IHS Jane's International report:
Armament to be fitted onboard includes either a 37 mm or a 30 mm gun as a primary weapon, in addition to mountings for two 12.7 mm machine guns. An artist's illustration of the MPV [Maritime Patrol Vessel], shown at the ceremony, suggests that the PMSA has opted for an automatic stabilized naval gun system as the platform's main weapon.
Furthermore, the report noted that Pakistan government documents revealed the requirements of the new Maritime Patrol Vessel including "a maximum speed of 30 kt [knots] and a cruising speed of between 12-16 kt. The vessel should also have a standard range of 4,500 n[nautical] miles at cruising speed, and have an endurance of 21 days at sea without replenishment."
The PMSA currently operates four maritime patrol vessels and nine fast response boats, as well as three aircraft. PMSA is also expecting to induct eight used U.S.-made GRC43M Cutters; however, U.S. Congress put the delivery of the ships on hold in March 2015 and it is unclear if and when these vessels will be handed over to the service. Nevertheless, the PMSA has an urgent need to expand the size of its fleet.
"With the acceptance of Pakistan's claim by the United Nations for extension of its continental shelf, its sea-bed territory has been increased by 50,000 sq km, taking it to 290,000 sq km," Pakistan's Federal Minister for Planning, Development and Reform Ahsan Iqbal noted in May 2016. "Now this sea area is larger than that of the combined area of Sindh and Khyber-Pakhtunkwa."
The PMSA's principal mission is to "assert and enforce national jurisdiction and sovereignty in the territorial waters/ contiguous zone and to protect Pakistan's economic interests in the Exclusive Economic Zone/ Continental Shelf of Pakistan." It is part of the Pakistan Ministry of Defense and operates closely with the Pakistan Coast Guards.