China Is Helping Modernize the Pakistan Navy. What Does That Mean for India?
A new dynamic in the India-Pakistan arms race is unfolding – with help from Beijing.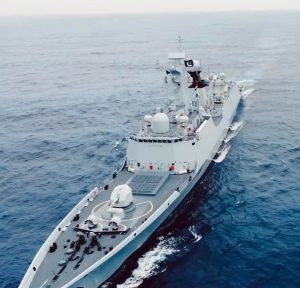 Over the last decade, China's dominance in the Indian Ocean region has gained headlines, with relatively little attention paid to Pakistan's maritime advances. Surprisingly, despite a financial crisis and political turmoil, Islamabad has continued to improve its naval fleet, which raises concerns for India and other neighboring countries.
Beijing has increased its backing for Pakistan's navy modernization to boost the capacity of a major ally who will help China confront the security issues that it faces in the Indian Ocean Region (IOR). China has boosted its naval presence in the IOR at the same time, creating its first overseas military post in the Horn of Africa in Djibouti. Over the last two decades, China-Pakistan military cooperation has shifted toward maritime forces. 
Pakistan has been proactively procuring technologically advanced naval vessels from China, headlined by a $5 billion deal signed in 2016 for Pakistan to acquire Yuan class Type 039/041 diesel submarines by 2028. Pakistan is all set to acquire eight such submarines from China, with four of them scheduled for delivery by the end of 2023. The first four subs are being built by China Shipbuilding Industry Corporation; the other four will be built in Pakistan by Karachi Shipyard and Engineering Works, further bolstering Pakistan's indigenous capabilities. 
These submarines are equipped with advanced sensors and modern armaments, which tilts the tactical power balance slightly in favor of Pakistan. These diesel attack submarines align with the Pakistan Navy's offensive sea denial strategy, which prioritizes the use of submarines and missile-carrying maritime patrol aircraft in naval warfare.    
Apart from this, Pakistan is also expanding its surface fleet. It has commissioned Zulfiqar-class frigates, based on China's Type 053H3 vessels, which serve multiple roles, including anti-submarine warfare. It carries YJ-82 missiles for anti-surface warfare and  FM-90N short-range surface-to-air missiles for self-defense. 
In January 2022, the Pakistan Navy commissioned its most advanced vessel, the guided missile frigate Tughril. The Tughril is the first of four powerful Type 054A/P frigates being built in Shanghai for the Pakistan Navy. The vessel is armed with surface-to-air missiles and supersonic surface-to-surface missiles (SSMs), is a versatile warship capable of undertaking multiple missions. The second such vessel, the Taimur, was commissioned in June 2022. 
In the coming years, Pakistan will commission two more frigates of the same type, which the navy views as force multipliers. However, these frigates have faced multiple issues, including defective imaging devices, radar problems, engine malfunctions, and other technical snags.
While the Tughril-class frigates represent a significant addition to Pakistan's surface fleet, they do not pose a credible deterrent against the Indian Navy's superior capabilities and numerical advantage. But still, India needs to monitor Pakistan's shift toward power projection in the IOR. The addition of these advanced frigates enhances the Pakistan Navy's capability to operate in distant waters, which is demonstrated by its ability to conduct joint drills with China's navy in the East China Sea this year. 
Besides China, Turkey is also playing a key role in stretching and modernizing Pakistan's naval fleet. In 2018, Pakistan and Turkey signed a contract for the construction of four Milgem-class corvettes based on the design of Turkish Ada-class ships. Under the deal, Turkey will deliver four ships to Pakistan by February 2025.  
Pakistan's continued induction of higher-tonnage surface vessels reflects its ambition to enhance power projection in the region. The concerns for India lie not only in the naval imbalance but also in Pakistan's first-ever maritime doctrine, "Preserving Freedom of Seas." 
Pakistan's maritime strategy has evolved from an offensive sea denial approach to one focused on a sustained presence in the IOR. The Chinese-made J-10 fighter, which is part of China's naval arm, can be used by the Pakistan Navy to carry out maritime operations in the Arabian Sea and the Indian Ocean. The warplane can carry anti-ship missiles, which could enable the Pakistan Navy to play a more responsive role in the Indian Ocean. 
The modernization of the Pakistan Navy and the development of Gwadar port are not only a part of China-Pakistan cooperation to safeguard Belt and Road Initiative sea routes, but also support the Chinese navy's presence in the Indian Ocean and the Arabian Sea. A modern naval base at Gwadar could enable China to patrol sea lanes and monitor naval patrols by the United States in the Indian Ocean, which is the strategic link between the Atlantic and Pacific Oceans in terms of oil transportation in the region. 
U.S. Navy "freedom of navigation" operations in the South China Sea and Taiwan Straits are already a major source of frustration for Beijing, which lays claim to much of the East Asian littoral. As a result, Beijing may seek to settle its score with the U.S. in the Indian Ocean by gaining strategic depth with a naval base at Gwadar. 
Presently, Pakistan cannot come close to matching the maritime power of its archrival India, but the continued push for modernization and renewed strategic cooperation with China and Turkey could change the status quo by transforming Pakistan into a genuine regional naval power. A strong Pakistan Navy equipped with advanced frigates and other weapons is part of Beijing's grand plan to ensure the security of Chinese oil imports coming from the Persian Gulf and attain control of the sea lanes traversing the Indian Ocean.