Understanding Sri Lanka, Two Years After Sirisena Defeated Rajapaksa
Taylor Dibbert and Ankit Panda discuss Sri Lanka's domestic politics and foreign policy.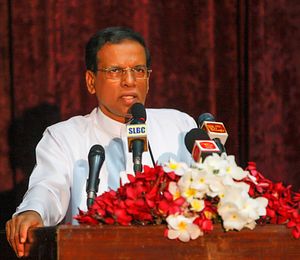 Taylor Dibbert, a regular contributor to The Diplomat and commentator on Sri Lanka, joins Senior Editor Ankit Panda (@nktpnd) to discuss the domestic politics and foreign policy of Sri Lanka two years after Maithripala Sirisena's unexpected presidential victory over Mahinda Rajapaksa in January 2015. The conversation focuses on Sri Lanka's transitional justice efforts under the Sirisena government and the country's position in a perceived geopolitical tug-of-war between India and China.
Click the arrow to the right to listen. If you're an iOS or Mac user, you can also subscribe to The Diplomat's Asia Geopolitics podcast on iTunes here. If you use Android, you can subscribe on TuneIn here. If you like the podcast and have suggestions for content, please leave a review and rating on iTunes and TuneIn.