Two Weeks In, Trump Administration Remains Relatively Quiet on US-China Relations
U.S.-China interactions since Trump's inauguration have been slow-moving and quiet.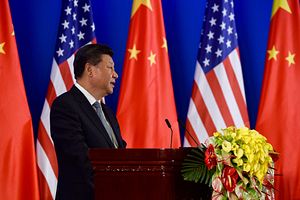 The Trump administration's first two weeks have been remarkably quiet on the U.S.-China relations front. Especially given Trump's unprecedented decision to accept a phone call from Taiwanese President Tsai Ing-wen, repeated Twitter tirades against Beijing on trade, open consideration of revising the U.S. one China policy, and appointment of prominent China hawks, such as Peter Navarro, one may have expected the administration to more energetically stake out a bottom line for what is arguably the world's most significant bilateral relationship.
Instead, the Trump administration has so far played things cool on China, even sending a few conciliatory signals. For example, as I discussed on Monday, Defense Secretary Jim Mattis' comments on the South China Sea — the first statements of policy from the new administration on the Asian flashpoint — were remarkably conciliatory, walking back comments made by Secretary of State Rex Tillerson, during his confirmation hearings, about the United States using military force to deny China access to its Spratly possessions. Mattis' emphasis on diplomacy in the South China Sea was warmly received in Beijing, where Lu Kang, a spokesperson for the Chinese Foreign Ministry, said that Mattis' approach was the "right thing to do."
In terms of high-level contact between the U.S. and Chinese sides, there's not too much just yet. The most significant publicly confirmed contact is a phone call between Chinese State Councillor Yang Jiechi and U.S. National Security Adviser Michael Flynn. The two men spoke last week and the call was likely a way for both sides to establish contact before a call between Trump and Chinese President Xi Jinping can take place. Xi and Trump spoke during the presidential transition in mid-November, and Flynn met Yang in New York in mid-December.
At a February 3 press conference, Lu, the Chinese Foreign Ministry spokesperson, gave assurances that the two governments were in "close contact." It's unclear if that referred to the Yang-Flynn call or to other — possibly back-channel — communications between the two sides. As I noted on Monday, Lu additionally hinted — for the first time from the Chinese side — that Beijing could be open to bilateral "consultations" with the United States on the question of trade.
The Trump administration has strongly criticized China's trade practices and threatened to label Beijing a currency manipulator. It's unclear if this hint toward being open to talks was born of the Flynn-Yang exchange or of some other unreported contact between the two sides. Given Flynn's narrow portfolio, it's unlikely that he'd have conferred with Yang on economic issues.
This raises an additional possibility that commentators elsewhere have dug into — one of a high-level backchannel between the two countries. One interesting possibility, explored more fully over at the Nikkei Asian Review, is the possibility that Stephen Schwarzman, a billionaire businessman with dealings in China and close ties to Trump, including an advisory role on economic policy, may be an important go-between. Schwarzman reportedly dined with Xi at the World Economic Forum meeting in mid-January in Davos, Switzerland, and then, this weekend, joined Trump on Air Force One to fly to the U.S. president's Florida retreat at Mar-a-Lago.
Another potential high-level intermediary between Trump and Xi is none other than Henry Kissinger, who met both leaders back-to-back within a span of days in early December. Kissinger met Xi on December 2 and then went on to meet Trump on December 6 (Trump and Kissinger had also conferred in mid-November). Kissinger's December meeting with Trump came the weekend after the U.S. president-elect's decision to accept a call from Taiwanese President Tsai Ing-wen sparked a furor in the press about U.S.-China ties under Trump.
It's unclear what specifically Kissinger may have conveyed to either leader; he and Xi discussed U.S.-China relations broadly. According to Chinese state media accounts of the Kissinger-Xi meeting, Xi emphasized to the former U.S. secretary of state — a figure central to the normalization of U.S.-China ties — that the "history of China-U.S. ties since the forging of diplomatic ties has proven our common interests far outweigh the differences."
One final point worth noting as far as U.S.-China interactions go is perhaps a bit of inadvertent soft power work from the new U.S. administration. Trump's eldest daughter, Ivanka, and her daughter, Arabella, attended Chinese New Year celebrations at the Chinese embassy in Washington, D.C., where they were hosted by Cui Tiankai, the Chinese ambassador to the United States. Bloomberg reports this morning that Ivanka's participation came after backchannel meetings between her husband and Trump's son-in-law, Jared Kushner, and Cui. According to a White House source who spoke to Bloomberg, "Kushner and Cui have had an extensive ongoing dialogue that has been positive."
Ivanka nominally has no official title or role in the Trump administration, but has regularly sat in on official business and was in the room, for example, when Trump met with Japanese Prime Minister Shinzo Abe during the transition. Arabella, Donald Trump's granddaughter, is something of a sensation on the Chinese internet, where her Chinese language skills have drawn great attention. Whatever the realities of the behind-the-scenes Kushner-Cui talks, Ivanka's Lunar New Year appearance was another publicized instance of interaction between the Chinese government and Trump's world — if not his administration.
The first two weeks of the Trump administration have been hectic and fraught with a range of public relations, from the controversial executive order banning refugees and travelers from seven Muslim-majority countries to the administration's decision to unilaterally withdraw the United States from the Trans-Pacific Partnership. Diplomatic contacts with other countries, however, certainly haven't been rare.
That China has yet to receive presidential attention does not suggest disinterest or inattention, but perhaps an intentional effort to demonstrate that extending an olive branch to Beijing isn't in the offing as Trump settles into the Oval Office. Of course, if there are efforts underway to set up a Xi-Trump call, they were no doubt also delayed by the Chinese Lunar New Year — a week-long national public holiday in China.
No doubt Trump and his team remain deeply interested in China — especially given the long list of grievances outlined by both the president his close advisors on Beijing's economic and military behavior during the campaign and his transition. Whatever lies ahead for U.S.-China relations, we'll likely know soon.