Report: US Defense Secretary Jim Mattis to Visit China in Spring 2018
U.S. Secretary of Defense will likely visit China in the first half of 2018.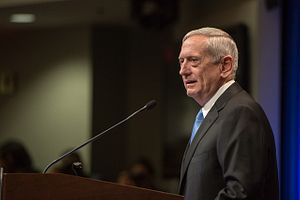 U.S. Secretary of Defense Jim Mattis will travel to China later this spring on his first official visit to the country since assuming his current position nearly one year ago, a U.S. Department of Defense spokesperson told Japan's Kyodo News Agency.
According to the U.S. Department of Defense's chief spokesperson, Dana White, Mattis will travel to China for meetings with senior Chinese officials on a range of issues.
"In the spring. That's where we're looking," White told Kyodo.
Mattis has made multiple trips to Asia in his first year as U.S. defense secretary, including visits to India, Japan, South Korea, and Singapore. His visit to China will be an important moment in setting the tone for U.S.-China military-to-military ties in the Trump administration's second year in office.
Mattis' trip will come in the wake of the Trump administration's first National Security Strategy document, which was released in December 2017, and identifies China, along with Russia, as a revisionist power and a major strategic competitor with the United States.
While in Beijing, Mattis will likely also address China's role in reining in North Korea's nuclear weapons and ballistic missile programs through better sanctions enforcement.
"We would love for [China] to use its influence more in Pyongyang," White told Kyodo. "We need their influence." The Trump administration's so-called maximum pressure campaign against North Korea has emphasized a central role for China, which accounts for an overwhelming majority of North Korea's overseas trade.
Mattis' trip will likely broach other topics on the U.S.-China strategic agenda, including freedom of navigation in the East and South China Seas, cybersecurity, and regional security. "There are many things that the United States and China can cooperate on, but we'll confront China when we need to," White added.
The South China Sea, in particular, has not been a major focus of U.S.-China dialogue in the Trump administration's first year in office, despite a stepped up tempo in U.S. freedom of navigation operations in the area.
China has continued to militarize its seven artificial islands in the Spratly group, despite a 2016 ruling by a Hague-based arbitral tribunal that found its capacious nine-dash line claim invalid.
White's comments to Kyodo are the first indication of a specific timeline for a visit by the U.S. defense secretary to China. The Department of Defense is likely to release additional details in the coming weeks, including a detailed agenda for Mattis in Beijing.