US Ballistic Missile Intercept Test Fails for 2nd Time
An Aegis Ashore-launched SM-3 Block IIA interceptor failed to hit its target during a ballistic missile defense test on January 31st.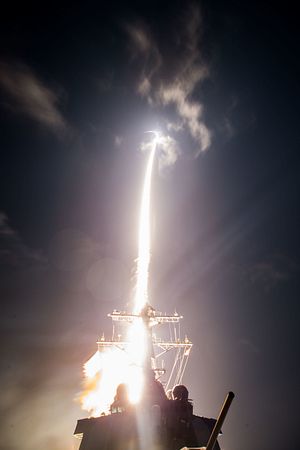 A Standard Missile-3 (SM-3) Block IIA interceptor fired from an Aegis Ashore battery, the land-based variant of the Aegis combat system, failed to hit a dummy missile launched from an aircraft near the Pacific Missile Range Facility, Kauai, Hawaii on January 31st.
"The primary objective of the test was to intercept an air-launched intermediate-range ballistic missile target," the U.S. Missile Defense Agency (MDA) said in a statement, according to CBS News. "However, this objective was not accomplished."
CNN first reported on the failed missile on January 31st.
So far, neither the U.S. Navy nor MDA have revealed any additional details on the ballistic missile defense test.
The SM-3 Block IIA was successfully tested in February 2017 of this year when it destroyed a medium-range ballistic missile target, I reported previously. However, the missile failed another intercept test in June, when a U.S. Navy sailor unintentionally caused the interceptor missile to self-destruct. The first live fire of a SM-3 Block IIA missile took place in June 2015.
The SM-3 Block IIA has been under joint development by the U.S. defense firm Raytheon and Japan's Mitsubishi Heavy Industries, the country's largest defense contractor, since 206. While Raytheon is responsible for the missile's hardware, system development, and all-up-round integration, Mitsubishi Heavy Industries focuses on the interceptor's second and third stage rocket motors, steering control, and the missile nosecone.
Japan has so far spent over $1 billion on the missile program, whereas the United States contributed about $2 billion.
The missile is slated for operational deployment in 2018.
Japan intends to install two Aegis Ashore batteries armed with SM-3 Block IIA (and SM-6 missiles) by 2023 at an estimated cost of $2 billion to defend the Japanese homeland against Chinese and North Korean ballistic and cruise missiles.
However, as I explained in December:
[T]he Aegis Ashore sites, however, will not be fitted with a powerful new air and missile defense radar, Raytheon's AN/SPY-6(V), expected to be installed aboard U.S. Navy warships in the early 2020s.

This would mean that Aegis Ashore batteries would not be able to utilize the extended range of SM-3 Block IIA interceptors estimated to have a maximum operational range of 2,500 km (1,350 miles).

In order for either missile to intercept a North Korean ballistic missile, the Aegis combat system would have to start tracking the missile in its ascent phase and launch interceptors before it overflies the Aegis ashore site (…) This all depends on the early detection of the missile.
According to some estimates, Japan's current ballistic missile defense systems, including its shore-based PAC-3 Patriot batteries (currently undergoing upgrades), can be overwhelmed by four ballistic missiles fired simultaneously.