Where Are Singapore-New Zealand Defense Relations in 2018?
The defense ministers' meeting puts the spotlight on defense ties between the two countries amid domestic and regional changes.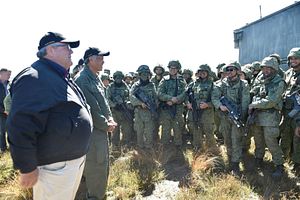 This week, Singapore and New Zealand held the second iteration of their new defense ministers' meeting established last year. The meeting put the spotlight on the defense ties between the two countries amid recent government changes in New Zealand and regional uncertainties as Singapore chairs the Association of Southeast Asian Nations (ASEAN) this year.
As I have noted before in these pages, Singapore and New Zealand have had a defense relationship that dates back decades, with both being members of the Five Power Defense Arrangement (FPDA) forged in 1971 along with the United Kingdom, Australia, and Malaysia. But both sides have also been making efforts to further boost defense cooperation, and a case in point was the holding of their inaugural defense ministers' meeting in New Zealand that was held back in January 2017.
This week, both sides conducted the second iteration of the Singapore-New Zealand Defense Ministers' Meeting. The meeting was held in Auckland and led by Singapore Defense Minister Ng Eng Hen and New Zealand Defense Minister Ron Mark, who had assumed that portfolio just late last year following the change of government after the September elections (last year, Ng's interlocutor was Mark Mitchell). Indeed, Ng was the first Southeast Asian defense minister that Mark had met with since assuming the position.
During the meeting, both sides reviewed their bilateral defense ties and agreed for further cooperation through established mechanisms including their annual air force staff talks as well as the operational and education and training working groups. They also discussed regional security issues, with Singapore holding the annually rotating chairmanship for ASEAN and hosting the next iteration of the Shangri-La Dialogue in June which Mark is set to attend.
There was also discussion of a previous proposal for Singapore's F-15 jets to train at Ohakea Air Force Base. The previous proposal was for Singapore to set up a pilot training base at Ohakea Air Base, New Zealand's third largest airfield, as the land-scarce city state continues to look for other partners that can provide room for it to train its armed forces. Though discussions had been underway, officials had publicly said they would still need to look into specifics, including logistical requirements, costing, and the views of the local community (See: "Why is Singapore Eying a Military Base Deal With New Zealand?").
Few additional specifics were provided on the proposal at the defense ministers' meeting, with the joint statement merely noting that New Zealand would "continue to evaluate the proposal" for training. As I have been noting in these pages, in the past, Singapore has seen some of its attempts at expanding training opportunities encounter domestic headwinds in spite of their enduring strategic logic, with Australia being a case in point (See: "The Enduring Logic of the New Australia-Singapore Military Training Deal").