Did China and the US Overreact to Tillerson's Remarks On US-China Relations?
His description of U.S.-China relations brought too much optimism from China and too much criticism from the US.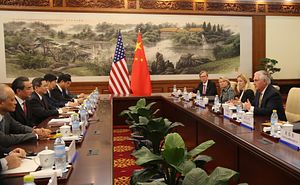 During his two-day visit to China, U.S. Secretary of State Rex Tillerson said that "the U.S.-China relationship has been guided by an understanding of non-conflict, non-confrontation, mutual respect, and win-win cooperation," which echoed Chinese President Xi Jinping's definition of a "New Type of Great Power Relations." These brief remarks engendered unanticipated, spirited — and opposite — reactions in China and in the United States.
Hot and Cold Reactions
On the Chinese side, the media optimistically forecast that Tillerson's goodwill gesture showed that China and the United States would be on a more cooperative track going forward. Even the Global Times, one of China's most belligerent and nationalistic tabloids, claimed that Tillerson convinced most Chinese experts that "the relationship between the two countries won't get into big trouble," and some even expect that "the next four years of Sino-U.S. relations may be better."
In stark contrast, the U.S. side, or, to be more specific, the American foreign policy establishment — those think-tank scholars, ex-government officials, and policy journalists in Washington, D.C. — criticized Tillerson almost unanimously with full firepower:  The Washington Post rebuked Tillerson for handing Beijing a diplomatic victory. Bonnie Glaser, a senior adviser for Asia at the Center for Strategic and International Studies, scolded Tillerson, saying he made a big mistake for endorsing China's catchphrase; Laura Rosenberger, an ex-foreign policy adviser in the George W. Bush and Obama administrations and Hillary Clinton's presidential campaign, fiercely reprimanded Tillerson by implying he might "intentionally kowtow to China."
However, a case can be made that both sides are overreacting: China appears overly optimistic, while the U.S. foreign policy community appears over-critical. Tillerson's China strategy will be anything but pro-China. At least three major factors have been misread or overlooked at home and abroad.
One: Who is Secretary Tillerson?
Prior to serving as secretary of state, Tillerson worked at ExxonMobil for more than four decades, the last ten years of which he served as chairman and chief executive officer. He was trained to be a low-key businessman rather than a high-profile politician, and a businessman's goal is always to get business done and to make profitable deals.
Now, as the secretary of state, he is actually doing the same thing and he has openly admitted it. During his trip to China, Tillerson repeatedly emphasized that he aimed to forge a "results-oriented relationship" with China. Undoubtedly, Tillerson means to secure favorable results for the United States just as he expects China to act in its own self-interests.
When interviewed exclusively by Erin McPike, Tillerson explained himself more clearly:
"I've been very successful diplomatically for over 25 years. Done some really tough deals around the world with some really difficult governments and I've been successful because I was always able to respect their integrity and respect the fact that they have a population they have to take care of and the less I said about what we were trying to do in public, the easier it was for them to manage the outcome, and in the end we could be successful. There's a lot of those same elements of what I'm trying to do as the top diplomat for the United States government."
In essence, Tillerson knows to give others face in public and play hard behind closed doors. Historically, Beijing happens to be a loyal follower of the behind-closed-door tactic of negotiation, too.
Two: Who Was on Tillerson's Team?
Because of Tillerson's low-key style, the press barely reported on his diplomatic team for China. Yet, the composition of the team is worth noting.
According to multiple pictures published by Chinese and U.S. media, a total of six American diplomats, not counting Tillerson himself, attended the round table conference with their Chinese counterparts on March 18. Four out of the six American diplomats could be identified: Margaret Peterlin, Tillerson's chief of staff; Susan Thornton, acting assistant secretary for East Asian and Pacific Affairs at the U.S. Department of State; David H. Rank, deputy chief of mission in U.S. Embassy Beijing; and Matt Pottinger, National Security Council senior director for Asia.
Pottinger is particularly worth noting. He served as a correspondent for The Wall Street Journal in China for nearly five years and then decided to join the U.S. Marine Corps at the age of 32. He explained that his experience living under an authoritarian government made him value freedom all the more. One of his often-shared stories about an encounter in China was very famous in Chinese media circles: He was once taunted and punched by a Chinese government thug at a Starbucks when doing a sensitive interview in Beijing.
No one would expect Pottinger, with such a complicated personal history with China, to suggest that Tillerson kowtow to China. On the contrary, Pottinger is more likely to suggest the opposite.
Three: Who Is Behind Tillerson?
Behind Tillerson, of course, is President Donald Trump. Trump is always the wild card for U.S. foreign policy.
Trump is the person who said, "We can't continue to allow China to rape our country"; who described China as a grand champion of currency manipulation; who broke with decades of U.S. policy on China by speaking with Taiwan's leader Tsai Ing-wen; and who blamed China on Twitter for not helping to discipline North Korea — without letting Tillerson know in advance.
Based on Trump's unique style of leadership so far, even if Tillerson has achieved a mutually respected, win-win result with China, Trump might easily and unexpectedly dismiss the result.
In fact, the United States  just recently rejected a plea to respect China's air defense zone over its territorial claims in the East China Sea.
Given the current situation, China and the United States might better serve the international common good by acting cautiously and calmly when confronting stressful situations and potentially provocative incidents, because over-reaction often leads to unwanted risks.