What Tensions? 'Friendship' on Display as North Korean Official Visits China
Vice Foreign Minister Ri Kil-song is in Beijing, the first such high-level visit in nine months.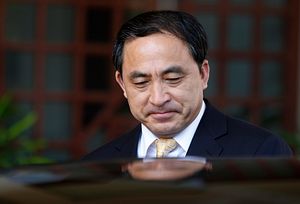 February was a rough month for China-North Korea ties. North Korea conducted a missile test, which predictably raised pressure on China to do more to rein in its ally's provocative behavior. Then Kim Jong-nam, the older half-brother of North Korea's leader, died in Kuala Lumpur airport, with Malaysian authorities announcing after an investigation that Kim had been poisoned with the VX nerve agent. Kim reportedly had been living mostly in China, under Beijing's protection, before his death. China then announced that it would suspend imports of North Korean coal for the rest of 2017, which analysts read as a blow to North Korea.
Yet amid the tensions, there was also a more positive sign for the relationship. On February 28, North Korea's Vice Foreign Minister Ri Kil-song arrived in Beijing for talks with Chinese officials, including Foreign Minister Wang Yi, Vice Foreign Minister Liu Zhenmin, and Assistant Foreign Minister Kong Xuanyou. According to China's Ministry of Foreign Affairs, Ri and his Chinese interlocutors would "exchange views on China-DPRK relations and international and regional issues of mutual interest."
Ri's visit to China, which will last until March 4, is the first by a North Korean official since North Korea Workers' Party Politburo member Ri Su-yong's trip to Beijing in June 2016.
Details about the trip have been scarce so far. On Wednesday, China's Foreign Ministry released a read-out of a meeting between Wang and Ri in which both officials stressed the "friendship" between China and North Korea. There was little else said of substance, however, although Wang did repeat China's normal talking points about "Korean Peninsula issues." Wang said China hopes that "all relevant parties" will work together to "resolve challenges [and] control the situation."
Notably, Wang said China hopes all parties will "put forth new efforts toward achieving the goals of denuclearizing the [Korean] peninsula and constructing a peace mechanism for the peninsula." North Korea has been adamant that it will not give up its nuclear ambitions, but is interested in pursuing peace talks (leading to an eventual peace treaty) with the United States. China has proposed pursuing both goals simultaneously via "dual-track" negotiations, a non-starter for the previous U.S. administration. From Wang's comments, it seems Beijing's position has not changed and dual-track talks are still its preferred approach to the Korean nuclear issue.
Ri's visit comes amid a new wave of Chinese pressure aimed at dissuading South Korea from deploying the U.S. Terminal High Altitude Area Defense (THAAD) system. China sees THAAD as both a critical threat to its own national security interests – a potential threat to its second-strike capability – and a provocation sure to spark an intensified arms race between the two Koreas. As the deal progresses, Chinese media outlets, which a wave of op-eds in state-run outlets like Xinhua, People's Daily, and Global Times. One particularly fiery article, written by Rear Admiral Luo Yuan, suggested China prepare to destroy THAAD "at the necessary time."
Chinese media also stepped up attacks targeting South Korean conglomerate Lotte, which just formally signed a deal to provide the land earmarked to host THAAD. In response to a question about protests targeting Lotte, a Chinese Foreign Ministry spokesperson said that "at the end of the day the Chinese market and consumers will determine whether a foreign company is successful in China."
Going off of the amount of media coverage and official statements – China's Foreign Ministry has fielded questions about THAAD in every daily press conference so far this week – THAAD is of greater concern to China than North Korea's missile or nuclear programs. That may well be a factor behind Beijing's invitation to Ri: a reminder to South Korea that of China "traditional friendship" with Seoul's greatest enemy.