Kazakhstan's Dirty Laundry: Money Laundering and New York Real Estate
Kazakh politics plays out far from the steppe — in New York lofts and courts.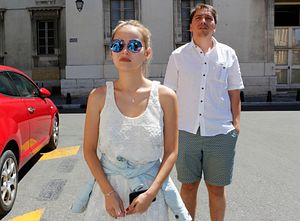 A new and incredibly thorough report, produced in partnership by McClatchy and the Organized Crime and Corruption Reporting Project (OCCRP), details the threads connecting two exiled Kazakh families, the Khrapunovs and Ablyazovs, and money laundering via elite New York properties, with tendrils extending to Donald Trump.
Nothing about money laundering operations is easy to suss out, thanks to secrecy abetted by laws in various countries that favor obscurity. Few cases can back up one of the theses underpinning Alexander Cooley and John Heathershaw's recent book — Dictators Without Borders — as strongly as the Ablyazov and company saga. The book details how "autocrats and their cronies use Western financial, legal, policing and political systems to both extend their power back home and to selectively access Western institutions, status symbols and legal protections."
In the case of Kazakhstan, Astana's elites use Western financial systems — for example, offshore companies, with ownership kept secret — to buy yachts or to purchase lofts in the Trump Soho building. Once elites have fallen out with the government, Western political, legal, and policing systems provide a shield, at times, denying extraditions, for example, on account of torture concerns. But those same Western systems are used by the Kazakh government to pursue their opponents abroad. Borders be damned, Kazakh domestic politics plays out on an international scale.
"Cronies" like Viktor Khrapunov and Mukhtar Ablyazov — who, until they fell out with the regime of Nursultan Nazarbayev, held prominent positions — are accused of various financial crimes in several countries. The validity of the charges is up for debate, with the Khrapunovs and Ablyazovs claiming complete political persecution, and courts in several countries, not just Kazakhstan, countering with serious financial crimes. It seems probable that both narratives are true, at least in part.
The McClatchy report notes that "[t]he net is closing" around the Khrapunovs. Viktor Khrapunov and his family live in Switzerland, and Ukraine has reportedly asked for the extradition of Viktor's son, Ilyas, for allegedly organizing the hacking of a law firm representing BTA Bank, formerly owned by Ablyazov and at the center of his legal woes.
Ilyas is married to Madina Ablyazova, the daughter of Mukhtar Ablyazov, and the two reportedly "secured unusual diplomatic posts representing the Central African Republic in Geneva." A source told McClatchy, that "the couple had been appointed by former ruler Francois Bozizé before he was toppled."
Indeed, when Italian authorities deported Alma Shalabayeva, Ablyazov's wife, and her six-year-old daughter Alua in 2013, they initially claimed it was because she possessed a fake Central African Republic passport. But as the Financial Times reported at the time, the African country said the passport was valid.
McClatchy also notes that Ilyas and Madina hold dual citizenship in St. Vincent and the Grenadines, after making a land purchase.
Ilyas told McClatchy, "Due to refusal of Kazakhstan to renew passports of the family, we were forced to apply through legal process to obtain secondary citizenships in order to exercise our rights to travel."
Although a recent bill making its way through Kazakhstan's parliament ostensibly aims to revoke citizenship from individuals who have joined terrorist organizations, it could also be used to revoke citizenship from the government's political opponents. Lacking a valid passport makes international travel all but impossible.
If it sounds like a tangled mess, read the rest of the McClatchy report: it stretches from Kazakhstan to New York and California, by way of Switzerland and Ukraine, and includes troubling links to U.S. President Donald Trump's real estate empire via Bayrock, a real estate development and investment firm owned by Tevfik Arif, a Kazakh businessman. While the McClatchy report focuses on exploring the connection between the Khrapunovs and Ablyazovs and Trump's shady real estate partners — asking good questions about what the now-president knew and when concerning money laundering via properties with his name on them — there's another dynamic to this that shines a light on how Kazakh politics plays out far from the steppe.