In early April, the Cambodian government requested that the U.S. Navy Mobile Construction Battalion, better known as the "Seabees," cease their work in the country. The Seabees departure puts on hold roughly 20 different projects worth over $5 million, including multiple humanitarian projects in various Cambodian schools and hospitals. This announcement follows on the heels of Cambodia's January 2017 decision to cancel Ankor Sentinel, an annual bilateral exercise with the United States, the 8th iteration of which was to be held in June of this year.
Meanwhile, Cambodia's security cooperation with China continues to expand. In 2016, the two countries conducted their first ever bilateral military exercise, Golden Dragon, a humanitarian assistance disaster relief exercise involving roughly 500 personnel. This is only the latest in a long line of expanding security cooperation, as the past decade has seen a substantial amount of military diplomatic outreach on the part of China and the People's Liberation Army (PLA) towards the Royal Cambodian Armed Forces.
Cambodia's importance to China as a bulwark against unified ASEAN opposition to its territorial claims in the South China Sea is clear. Less well understood however, is the role that China's military is playing in supporting this successful relationship. This article provides a brief look at the military aspects of China-Cambodia relations, and the ways in which China has sought to use "military diplomatic work" to support its overall foreign policy with Cambodia.
The role of military diplomacy in China's foreign policy
China's military diplomatic work has long been a key component of its foreign policy. However, under Xi jinping, the PLA has redoubled its efforts, expanding its military diplomacy outreach in the region even as it pursues its territorial claims. In October 2013, not long into Xi's tenure, the CCP held a work conference on foreign policy in the periphery, the first of its kind since China's founding in 1949. Among those in attendance were the entire Politburo Standing Committee, the top 7 leaders in the Party, which underscores the conference's importance. During the conference, Xi Jinping reportedly gave guidelines focused specifically on improving regional security cooperation. Following this in January 2015, the PLA held its regular Foreign Affairs Work Conference, where Central Military Commission Vice-chair General Fan Changlong, one of the two most senior ranking uniformed officers in the PLA, stressed the importance of "do[ing] a good job in diplomatic work with big powers and with periphery countries." Military diplomacy has even been engrained as a core responsibility for the PLA in China's 2015 Defense White Paper, China's Military Strategy.
In the case of Cambodia, the PLA has sought to pursue military relations through a number of initiatives. This includes relationship building in the form of financial military assistance, and professional military education and training opportunities for Cambodian military personnel, dialogue-focused engagements with senior military officials, and operational-focused events such as port visits and bilateral military exercises. An examination of these initiatives suggests that the PLA is playing an important role shoring up relations with China's most reliable partner in Southeast Asia. Moreover, China's military's outreach to Cambodia is ensuring strong relations between the two militaries for the foreseeable future, as the PLA works to establish ties with the next generation of Cambodian military officers.  
Financial military assistance and training
First and foremost, China has sought to solidify military relations with Cambodia through the provision of financial military assistance, including arms sales and arms transfers, and financial and technical support for Cambodian professional military education and training. Since 2012, China has been one of Cambodia's largest arms suppliers; providing roughly 20 percent of all Cambodia's arms purchases in 2012 and 60 percent in 2013. The PLA also routinely donates weapons and equipment for training.
These one-off arms sales and transfers however pale compared to the assistance China has been providing to train and educate the Cambodian armed forces. In 2000, China began providing assistance to develop the Cambodian Army Institute, one of the nation's key institutions for professional military education and training. China has also been paying for military trainers at the school, and has been covering a portion of the institute's operating costs. In 2009, about 200 Cambodian military cadets began enrolling in courses created by Chinese military advisors, who also oversaw the Cambodian teaching staff. Cambodian cadets at the institute also spend six weeks studying in PLA military academies in China as part of the program. In 2012, the Confucius Center at the Royal Academy of Cambodia in Phnom Penh opened its fourth Chinese language center—the first institute designed specifically to provide Chinese-language training to Cambodian military officers.
China's financial military assistance and professional military education is clearly an investment in relationship building with future Cambodian military leaders, and may prove invaluable over time. According to one Cambodian officer, roughly half of all Cambodian officer trainees pass through the Cambodian Army Institute, suggesting that PLA engagement provides excellent access to Cambodia's future military leaders. A Cambodian government official also noted, "Graduates [of the school] have already been put into influential positions, including the head of army brigades." Relationship building appears to be a key component of China's military diplomacy overall, as the PLA routinely holds reunion events for foreign alumni in China and abroad who participated in military academic exchanges.
Senior military delegations and exchanges
At the same time the PLA is developing ties with future generations of Cambodian military leaders, PLA personnel are courting Cambodia's current leadership through visits by senior PLA delegations to Cambodia, and through reciprocal visits by Cambodian military leaders to Beijing. These senior visits have proven to be a useful way for China to provide Cambodia with a concrete demonstration of the importance of the relationship, and China has made extensive use of senior visits to Cambodia during the early years Xi Jinping's tenure. This included a visit in May 2014 by General Xu Qiliang, who, along with General Fan, serves as one of the PLA's two Central Military Commission Vice-Chairmen. Since Xi came to power in 2013, General Xu has rarely traveled to ASEAN countries. His 2014 visit to Cambodia was part of a three-country trip that included stops to Sri Lanka and Bangladesh. Including Cambodia in this limited itinerary signaled the importance that China places on this relationship. General Xu's trip also provided concrete benefits for the Cambodian military, as the outcome of the visit resulted in a military cooperation agreement under which China would grant scholarships to Cambodian military personnel to study in China.
In return, China has hosted Cambodian military delegations a total of six separate times, allowing the Cambodians to bring their issues directly to their patrons in Beijing. These visits included a 23-member delegation in 2015, which included the Cambodian Defense Minister and commanders of all three branches of the armed forces, as well as heads of the national police. While not definitive, the timing of the visits, which occurred during ongoing talks between Vietnamese and Cambodian officials over a long-standing border dispute, appears to suggest that Cambodia was in Beijing to garner support for its position in that dispute.
Table 1. PLA Senior Military Exchanges with the Cambodian Military: 2013-2017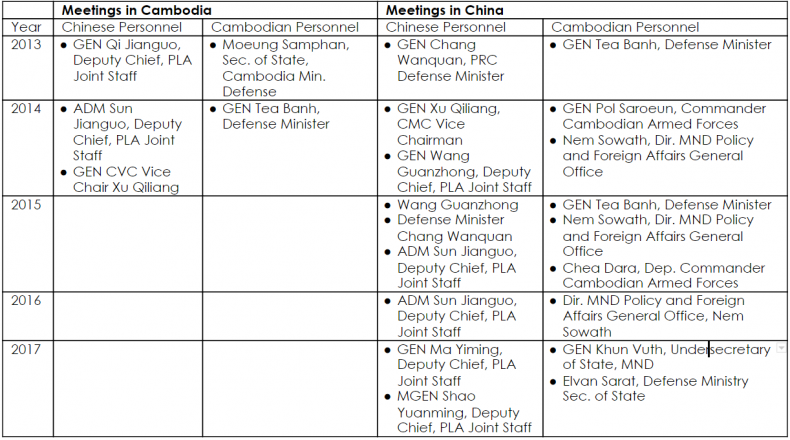 Operational Activities: Port visits, Medical Services Missions, and Combined Exercises
While less common than senior visits and military financial aid, the PLA has also been engaging with the Cambodian armed forces through more operationally focused activities, including port visits and medical service missions by the PLA Navy, as well as combined military exercise.
Of all the branches of China's military, the navy is perhaps the best suited to support China's military diplomacy efforts, which it frequently does through both port visits and military service missions. One common type of port visit in the region is a visit by Chinese naval vessels either beginning or returning from counter-piracy operations in the Gulf of Aden.
Chinese naval vessels conducted just such a port visit in 2016, when China's 21st Gulf of Aden taskforce, consisting of the Luzhou (FFG-573), Sanya (FFG-574), and Qinghaihu (AO-885), visited the port at Sihanoukville on their return to China. During the 5-day visit, the crews had opportunities to engage with their Cambodian counterparts. At the same time, however, the visit provided opportunities for the PLAN to showcase their military capabilities, both to their Cambodian partners, as well as to others in Southeast Asia.
Other port visits can provide practical benefits to China's Cambodian partners, while at the same time signal that China's rise is peaceful, and that its improving military capabilities can provide public goods to the region. For example, in 2013, the PLA Navy hospital ship, Peace Ark, conducted a port visits to Cambodia as part of its "Harmonious Missions" operation that year, a series of military medical missions which the PLAN has been conducting annually since 2010. In addition to Cambodia that year, the Peace Ark conducted similar visits to Brunei, Maldives, India, Indonesia, and Burma. During the visit to Cambodia, the Peace Ark's medical crew provided free medical services to local residents and Cambodian service members, and free health care for local schools.
Combined Military Exercises
Other operationally-focused activities, such as bilateral exercises, can provide the Cambodian military with practical training opportunities while also building trust. Historically, the two militaries have interacted through a handful of multilateral exercises, including ASEAN-led events such as the ASEAN regional forum's disaster relief exercises (ARF-Direx) and the Indonesian-led maritime exercise Komodo. In 2016 however, China and Cambodia conducted their first-ever bilateral exercise, Golden Dragon 2016 (Jinlong; 金龙-16), a humanitarian assistance disaster relief exercise (HADR) involving 377 soldiers – 97 from the PLA's Southern Theatre Command, and 280 Cambodian troops. According to China's official Xinhua News Agency, the two sides practiced a number of HADR activities, including clearing land mines, conducting water rescues, creating fresh water, and conducting bridges, all of which provided valuable training, according to Cambodian Defense Minister Gen. Tea Banh.   
PLA military diplomacy: a crucial component of Chinese foreign policy in Southeast Asia  
Understanding the ways in which China has developed its military relationship with Cambodia can shed light on how the PLA is pursuing military engagement elsewhere in Southeast Asia. Even as China lashes out at Singapore for its stance on the South China Sea, and oscillates back and forth with the Duarte regime in the Philippines, China continues to seek out avenues of engagement with others, and the PLA's military diplomacy initiatives are an important component of this strategy. In Malaysia for example, the PLA has been reaching out to the Malaysian armed forces in part through the Peace and Friendship bilateral military exercise with the Malaysian navy. What started as a tabletop exercise in 2014 has since grown into a full-scale bilateral maritime exercise involving multiple ships and assets on both sides. In Thailand, now that Blue Strike, the bilateral exercise between the PLA Air Force and the Royal Thai Airforce, has been established, the two militaries have one bilateral exercise in place for each of the three branches of the armed forces. Meanwhile, China continues to reach out to Indonesia through port visits, medical military aid via the Peace Ark, and the China-Indonesia bilateral exercise Sharp Knife (Liren; 利刃) as well as numerous high-level delegations to both Jakarta and Beijing.
Such military diplomacy outreach efforts suggest that Beijing is fully aware of the need to balance its aggressive stance towards some countries along its periphery with charm and outreach towards others. While the PLA's primary mission will continue to be defending the "sovereignty and security of China's territorial land, sea, and air," the CCP under Xi clearly sees the utility of military diplomacy in support of that mission.
Dr. Jeffrey Becker is a research scientist at the Center for Naval Analyses he federally funded research and development center for the United States Navy and Marine Corps. The views expressed in this article are that of Dr. Becker's and do not represent those of CNA or the U.S. Government.