Nepal and China Conclude Military Drills
The first-ever China-Nepal military drill was allegedly scaled down to address Indian concerns.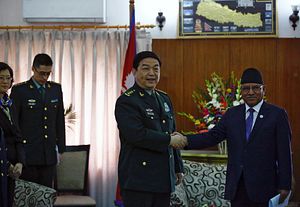 Nepal and China concluded a 10-day military drill last month as India's influence on its Himalayan neighbor continues to ebb and flow. The military exercises, the first ever between China and Nepal, commenced in the Nepali capital of Kathmandu on April 16.
The drill was initially slated to focus on counterterrorism, and was dubbed "Sagarmatha Friendship 2017," a reference to the Nepalese terms for the iconic Mount Everest, which sits on the border of Nepal and China. However it was reported by China's Global Times that Nepal scaled down the operation after lobbying by the Indian government
The drills were arranged under the pro-Beijing Nepali Prime Minister K. P. Sharma Oli, at a time of increasing rivalry between China and India for influence in the region. China's Defense Minister Chang Wanquan visited Kathmandu in March in preparation for the joint military drill. The trip was the first by a Chinese defense minister in 15 years.
However, the fall of the Oli regime and India-leaning tendencies of new Prime Minister Pushpa Kamal Dahal (also known as Prachanda) has seen an obvious shift in relations away from China. As a result, what was supposed to be battalion-scale military exercises was restricted to within a military school.
In the past decade, China has been making significant inroads in terms of influence into the South Asian subcontinent, largely through loans and infrastructure projects. One such project is the proposed Kerung-Kathmandu-Pokhara-Lumbini railway, a connecting cross-border railway line. This is of some importance for both China and Nepal as it will be an integral link in Xi Jinping's "One Belt, One Road" (OBOR) initiative while also providing a potentially lucrative trade route for land-locked Nepal.
Meanwhile, India has scrambled to mend the rift with its traditional social and cultural ally. India rolled out the red carpet as Nepal's first female president, Vidya Bhandari, made an official visit to Delhi in late April. Seemingly playing at China's weak points, Bhandari was taken on a religious tour of India. The people of both India and Nepal are predominantly Hindu and share centuries-old ties with temporal and religious bodies across India. Indian Prime Minister Narendra Modi has also made promises to extend assistance to local elections in Nepal after boycotting political parties forced Nepal's parliament to table an amendment to the Nepali constitution.
Under the Oli regime, India-Nepal relations were strained to their highest level due to issues stemming from Nepal's new constitution, culminating in the 2015 disruption of cross-border trade, where the Nepali administration accused India of imposing an undeclared blockade on its side of the border. The alleged blockade (which India consistently denied) saw an increase in trade with China that continues to threaten Nepal's reliance on Indian energy.
The new Nepali prime minister seems to be taking a softer diplomatic tack toward India. Officials from the northern border district of Kheri in Uttar Pradesh, India and the adjacent Nepali district of Kanchanpur have agreed to do a joint survey of their boundaries to resolve the situation, which severely impacted diplomatic relations under Oli.