North Korea Detains Another US Citizen, Bringing Total Held to Four
Kim Hak-song, an employee of the Pyongyang University of Science and Technology, was detained on Saturday.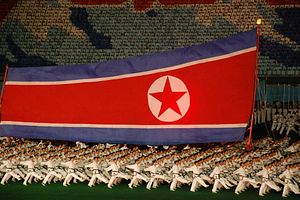 On Sunday, North Korea announced that it had detained another U.S. citizen. Kim Hak-song, an employee of the Pyongyang University of Science and Technology (PUST), was held on Saturday on suspicion of "hostile acts" against the North Korean state.
Kim's arrest makes him the fourth U.S. citizen to be detained by North Korea and the second PUST-affiliated American to be detained in recent weeks. In late-April, North Korean authorities arrested Kim Sang-dok, another U.S. citizen affiliated with PUST, for hostile acts as well.
In January last year, North Korea also arrested Otto Warmbier, a U.S. college student who had traveled to the country as a tourist. Warmbier was arrested over the alleged theft of a propaganda poster and charged with "hostile acts against the DPRK."
According to North Korea's Korean Central News Agency, "A relevant institution of the DPRK detained American citizen Kim Hak Song on May 6 under a law of the DPRK on suspension of his hostile acts against it."
The U.S. State Department noted on Sunday that it was aware of the latest arrest. "The security of U.S. citizens is one of the department's highest priorities. When a U.S. citizen is reported to be detained in North Korea, we work with the Swedish embassy in Pyongyang," a State Department official noted in a statement to Reuters.
The latest arrest comes shortly after North Korea claimed to have foiled a plot allegedly by the U.S. Central Intelligence Agency to assassinate Kim Jong-un, suggesting that Pyongyang may be especially sensitive about the possibility of ongoing U.S. intelligence operations within the country.
Last week, KCNA said the North Korean government had uncovered "hideous terrorists' group" that had sought to kill Kim Jong-un with unspecified biochemical agents. North Korea views any U.S. citizens within the country with suspicion.
In the case of Kim Hak-song, Reuters notes that he had identified as a "Christian missionary planning to start an experimental farm at PUST and was trying to help the North Korean people learn to become self-sufficient." Pyongyang especially views American missionaries in the country as agents seeking to undermine the ideological writ of the state.
The latest spate of arrests also comes shortly after the United States, under the administration of President Donald J. Trump, completed its policy review toward North Korea, vowing to implement a policy of "maximum pressure."
North Korea has long sought direct diplomatic engagement with the United States over its nuclear weapons program and may now be arresting more U.S. citizens to incite the Trump administration to dispatch a high-level envoy to the country.
In 2014, the Obama administration sent Director of National Intelligence James R. Clapper on a secret mission to North Korea to retrieve two U.S. citizens who had been detained by North Korea.