Otto Warmbier, American Held in North Korea, Dies Shortly After Release
The Warmbier family attributes his death to his "tortuous mistreatment" by North Korean authorities.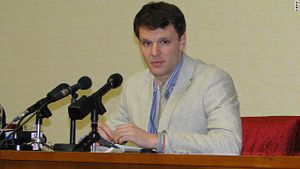 Otto F. Warmbier, an American citizen who was recently evacuated from North Korea in a comatose state after 17 months of imprisonment, died on Monday at the age of 22. A statement released by the Warmbier family noted that Otto died at 2:20 p.m. at the University of Cincinnati Medical Center in Ohio; Warmbier had been receiving treatment at the hospital since his release from North Korean captivity last week for "humanitarian" reasons after the intervention of the U.S. Department of State, led by U.S. Special Envoy for North Korea policy Joseph Yun.
The Warmbier family attributed their son's death to his treatment at the hands of the North Korean regime. The family's statement noted that the "tortuous mistreatment" he received "at the hands of the North Koreans ensured that no other outcome was possible beyond the sad one we experienced today." The family added that upon his return, Otto was "unable to speak, unable to see, and unable to react to verbal commands."
Earlier, Daniel Kanter, a neurologist who'd examined Otto, said that he showed "no signs of understanding language, responding to verbal commands or awareness of his surrounding." Kanter added that Otto was suffering from "extensive loss of brain tissue in all regions of the brain."
The Warmbier family statement added that upon his return from North Korea last week, Otto looked "very uncomfortable — almost anguished." Later, shortly after his return to Ohio, "the countenance of his face changed — he was at peace," the statement added.
Reacting to news of Warmbier's death, U.S. President Donald J. Trump released a statement noting that while "bad things" happen in "brutal" North Korea, at least Warmbier died surrounded by his loved ones at home. News of Warmbier's death comes days before top U.S. and Chinese officials are slated to meet for the first-ever Diplomatic and Security Dialogue in Washington, D.C., where cooperation on North Korea will sit at the top of the agenda.
With Warmbier's release, North Korea holds three U.S. citizens, all of Korean origin. Two of the Americans in North Korean custody were affiliated with the Pyongyang University of Science and Technology while the third is a businessman who was arrested in October 2015 — the longest-held U.S citizen still in North Korean captivity.
North Korean authorities revealed to the U.S. special envoy that Warmbier had been comatose for more than a year and receiving medical care in the country. The North Korean explanation for Warmbier's state was that he contracted botulism, a potentially fatal bacterial illness, and fell into a coma after taking a sleeping pill. U.S. officials have not confirmed if they have accepted North Korea's version of events.