The THAAD System in South Korea Detected North Korea's Latest Missile Launch. So What?
THAAD's utility against a system like the Hwasong-12 is severely limited.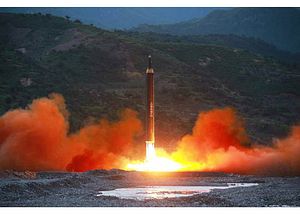 South Korean Defense Minister Han Kin-koo told the country's lawmakers on Tuesday that North Korea's latest missile test on Sunday had been detected by the advanced radar systems accompanying the controversial U.S. Terminal High Altitude Area Defense (THAAD) system. The system was deployed earlier this month, days before South Korea elected Moon Jae-in, who had been critical of the system, its new president. North Korea's Sunday missile test was the first successful launch since the deployment of the THAAD system in early May.
As I discussed yesterday, the missile North Korea tested on Sunday was a new type of intermediate-range ballistic missile, based on an indigenously developed high-thrust liquid fuel rocket engine. Dubbed the Hwasong-12, the missile is thought to be capable of flight to a range of around 4,500 kilometers, putting it in the higher ranges of what the United States considers an "intermediate-range" capable system (with a range between 3,000 to 5,500 kilometers). The missile would likely be capable of striking the U.S. territory of Guam.
Despite Han's seemingly reassuring comment that the THAAD system, which is placed on a golf course in Seongju county in southern South Korea, was able to track the missile, there are serious limitations as to what the system can do against a missile like the Hwasong-12. First, though, the good news is that given the system's range, North Korea would likely look to deploy this missile (or a potential successor system with similar range and payload delivery capabilities) to strike Guam — not targets in South Korea. THAAD is designed to hit and kill projectiles in their terminal phase, so it would not be able to intercept a longer-range system intended to overfly the Korean peninsula altogether.
The bad news is that North Korea would always be able to use a missile like the Hwasong-12 as a shorter-range strike system in a pinch if needed by "lofting," i.e., firing the missile at a sharp angle to reduce its range, as it does during testing. During Sunday's test, for example, North Korea fired the Hwasong-12 to a maximum altitude of above 2,000 kilometers, reaching Medium Earth Orbit altitude, to avoid either overflying Japan or hitting Russia. In the process, Pyongyang demonstrated that the Hwasong-12's warhead is capable of surviving reentry at the high speeds generated by atmospheric reentry from that altitude (similar to what an intercontinental-range system might endure).
THAAD, during its years of testing and development, has only ever successfully faced off against short- and medium-range projectiles. In fact, it's first-ever test against an intermediate-range ballistic missile target, like the Hwasong-12, is expected to take place this year. (Interestingly, the United States has deployed and shown off THAAD on Guam, where it would ostensibly take a shot at IRBMs.) All this means that while Han may have intended to reassure lawmakers with the disclosure that THAAD was able to successfully detect the Hwasong-12, in a real warfighting scenario, the system's ability to perform against something like a lofted Hwasong-12 is uncertain at best and non-existent at worst.
As a corollary, given the observed trajectory of the Hwasong-12 fired on Sunday, which flew over North Korea and landed near Vladivostok, Russia in the Sea of Japan, the THAAD AN/TPY-2 X-band radar's ability to successfully detect the missile may reinforce existing Chinese anxieties about the system. As I argued in March, China's strong opposition to the THAAD battery's placement in South Korea — despite existing batteries already being in place in Japan — may be based on the ability of the AN/TPY-2 radar to observe and relay information on Chinese ballistic missile launches to other U.S. missile defense systems in a crisis. (Per reports last year, the U.S. Missile Defense Agency has assured that the South Korean THAAD battery will not be sharing information with other systems.)